In Japanese, zawa.. zawa.. ざわ・・ざわ・・ has multiple meanings.
It's an onomatopoeia for when a crowd gathers and starts whispering around.
However, it's best known for its usage in the gambling series Kaiji, in which case zawa-zawa shows up in tense, cold-sweat-breaking, anxiety-filled situations, even when there is no crowd around, so there's nothing to emit a zawa-zawa sound.
In the anime adaptation of Kaiji, someone voicing the syllables zawa-zawa is used as the sound effect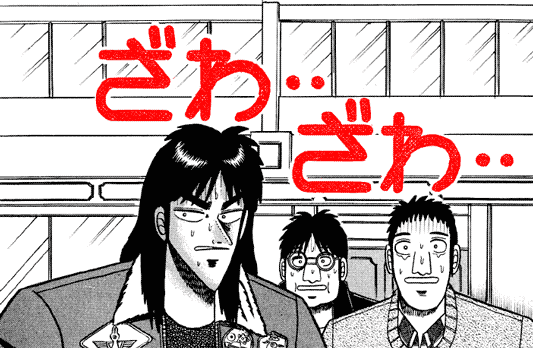 Manga: Tobaku Mokushiroku Kaiji 賭博黙示録カイジ
Parody
The iconic sound effect from Kaiji カイジ is sometimes parodied in other series.
Left: Sanzen'in Nagi 三千院ナギ
Right: Maria マリア
Anime: Hayate no Gotoku! ハヤテのごとく! (Episode 5)