In Japanese,
kimoi
キモイ,
also spelled
kimoi
キモい, means "unpleasant," or "gross," or "disgusting," or "creepy," or "cringey," or "disturbing," etc. It's a slang, an abbreviation of
kimochi warui 気持ち悪い
. Basically everything that
kimochi warui
means
kimoi
means too, so just check that article instead.
Manga: Gabriel DropOut, ガヴリールドロップアウト (Chapter 12)
Usage
Because
kimoi
キモイ is a slang, in anime and manga it tends to be used by more trendy characters than the generic bland personality main character, or the introverted main character, or the good Samaritan main character, etc.
When used as a reaction to something gross, it's sometimes shortened further:
kimo'! キモっ!
kimo! キモ!
Gross!
Sometimes,
kimoi
is used to call someone gross. It's a recurring scenario for a bunch of trendy girls to call a nerdy guy
kimoi
and stuff like that.
kimoi otaku キモイオタク
Disgusting nerd.
kimo-ota キモオタ
(abbreviation of the above.)
kimoi ossan キモイオッサン
Disgusting old man.
Note that
kimoi
doesn't literally means "gross." It's an abbreviation of
kimochi warui
, so it can be anything that makes you "feel bad," anything that's "unpleasant."
Manga: Gabriel DropOut, ガヴリールドロップアウト (Chapter 12)
Context: Satania had asked Vignette to tell about something that happened in the past, but in the middle of the story she asked to stop.
nani?
なに?
What [is it]?
hanase tte
itte oite
nanda kedo
話せって言っておいてなんだけど
[I know I] told [you] to "tell [the story]" but
gomen
ごめん
Sorry.
kimoi!!
キモイ!!
It's cringey!!
jaa hanasu no yameru?
じゃあ話すのやめる?
Then [should I] stop telling?
iya
kiku kedo'
いや聞くけどっ
No, [I'll] listen regardless.
Kimokatta キモかった
Despite being a slangy abbreviation,
kimoi
キモイ is technically an
i
-adjective, and it can be inflected as such.
For example,
kimokatta
キモかった means the same thing as
kimochi warukatta
気持ち悪かった: that something
was
kimochi warui
, or
kimoi
,
in the past
.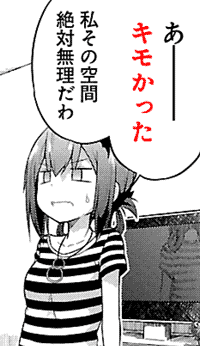 Manga: Gabriel DropOut, ガヴリールドロップアウト (Chapter 12)
aaaa
あーーー
Aaah
kimokatta
キモかった
[That] was cringey.
watashi sono kuukan
zettai muri da wa
私その空間絶対無理だわ
I, that space, absolutely impossible.

i.e. I wouldn't be able to handle it being in that space. (being there amidst the cringey-ness.)
Another example:
kyou hiru-goro
今日昼頃
Today, around noon.
wari to kimoku josei ni nanpa wo shita ue
割とキモく女性にナンパをした上
On top of hitting on girls in a rather creepy [way]
rojou de bakusui wo shita to shite
路上で爆睡をしたとして
[Crashed and] slept on the street.
"michi no ue de netari
onna no ko ni koe wo kaketari
shitara ikenai-n-da-yo zai" no yougi de
「道の上で寝たり
女の子に声をかけたり
したらいけないんだよ罪」の容疑で
On the suspicion of "the crime of
sleeping on the street and
talking to girls,
[stuff that you shouldn't do.]"
jishou yuuryou bukken
自称優良物件
Self-proclaimed excellent [marriage material].
Hirata Nanami yougisha ga taiho saremashita.
ヒラタナナミ容疑者が逮捕されました。
Suspect Hirata Nanami was apprehended.
yougisha wa
"kimokatta no wa mitomeru kedo
watashi datte
kawaii onna no ko to oshaberi shitai~
shita~shitai~shitai~shitai~
yada yada yada..."
nado to kyoujutsu shite-ori.
容疑者は
「キモかったのは認めるけど
私だって
可愛い女の子とおしゃべりしたい~
したい~したい~したい~したい~
やだやだやだ・・・」
などと供述しており
[In the] testimony, the suspect [said]
"I admit it was creepy
but even I
want to talk with cute girls~
I want to~I want to~I want to~I want to~
*insert whining here*"
[and things like that].
yougi wo mitometeiru toiu koto desu.
容疑を認めているということです。
[Meaning that he's] admitting the suspicion.
—Beesu Rain Yatteru? Shou
ベースラインやってる?笑
Are [you] on baseLINE? Lol.
Can I Friend You On Bassbook? Lol.
Song by Camellia, album 4orce! released in 2018.

LINE is an app for instant messaging.
Yes, these are actual lyrics from the song.