In manga and anime, sweat drops used as symbols are normally drawn appearing and staying at the same position on a character's face. However, in some cases the sweat is drawn dripping, like real sweat.
When this happens symbolically, it's typically because they're in panic, sweating profusely, faced with a sudden and extremely complicated situation, nervous, frozen with intense fear, and so on.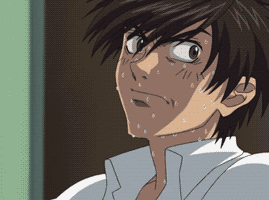 Character: Sagara Sousuke 相良宗介
Anime: Full Metal Panic, フルメタル・パニック! (Episode 9)
Examples
For reference, some examples: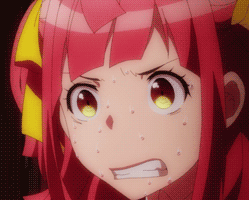 Character: Asagaya Minoa 阿佐ヶ谷未乃愛
Anime: Animegataris, アニメガタリズ (Episode 1)
daradara
ダラダラ
(For a liquid) to drip endlessly. (mimetic word.)
ase wo daradara nagasu
汗をだらだら流す
To let sweat flow endlessly. (literally.)
To sweat endlessly. To drip sweat continuously.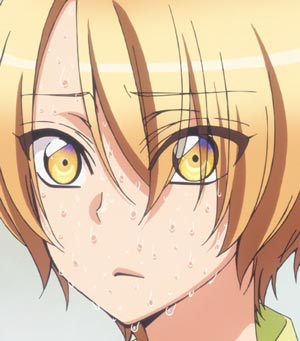 Character: Sena Izumi 瀬名泉水
Anime: Love Stage!! (Episode 1)
ase-mamire
汗まみれ
Covered in sweat. (face, skin.)
ase-darake
汗だらけ
Permeated with sweat. (clothes.)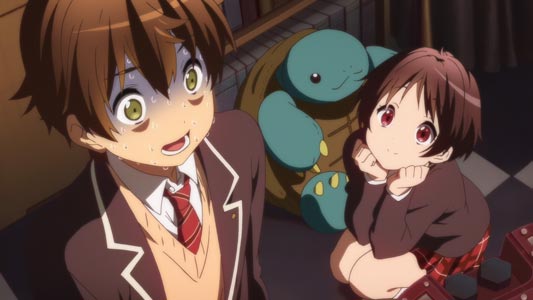 Left: Togashi Yuuta 富樫勇太
Right: Tsuyuri Kumin 五月七日くみん
Anime: Chuunibyou demo Koi ga Shitai! 中二病でも恋がしたい! (Episode 2)
Anime: Ouran High School Host Club, Ouran Koukou Hosuto-Bu 桜蘭高校ホスト部 (Episode 7)
Context: guards of a private police sweat through their clothes while doing a dogeza 土下座 at karate 空手 and jūdou 柔道 champion Honey-senpai ハニー先輩.