On the internet, orz (or OTL, OTZ, szo, among others) is a pose: someone on all fours, fallen on their knees with their hands on the floor. It's used when someone feels defeated, dejected or hopeless about something.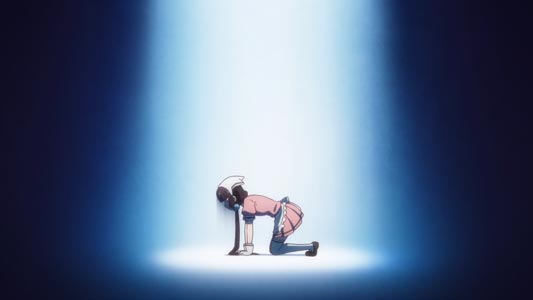 Character: Sakuranomiya Maika 桜ノ宮苺香
Anime: Blend S, ブレンド・S (Episode 4)
In Japanese
In Japanese, orz is pronounced oruzu おるず, orutsu おるつ, ootsu おおつ, oo-aru-zhii おーあーるずぃー, among others.
The term shitsui-tai-zenkutsu 失意体前屈, "bending [one's] body [in] despair" is an umbrella term for orz and its variations. It comes from ritsui-tai-zenkutsu 立位体前屈, which is bending forward standing up, like before diving in a swimming poll, for example.
The term yotsunbai 四つん這い means the "on all fours" pose in general.
Some related words include:
ochikomu
落ち込む
To feel down.
haibokukan
敗北感
Feeling of defeat.
make
負け
Loss. Defeat.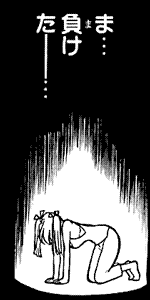 Character: Sawachika Eri 沢近愛理
Manga: School Rumble, スクールランブル (Chapter 48, Outrageous Fortune)
ma... maketa---...
ま・・・負けたーーー・・・
[I]... [I] lost...
Examples
For reference, some examples of orz in anime.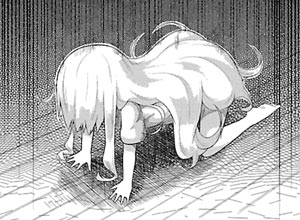 Characte: Tenma Gabriel White 天真=ガヴリール=ホワイト
Manga: Gabriel DropOut, ガヴリールドロップアウト (Chapter 8)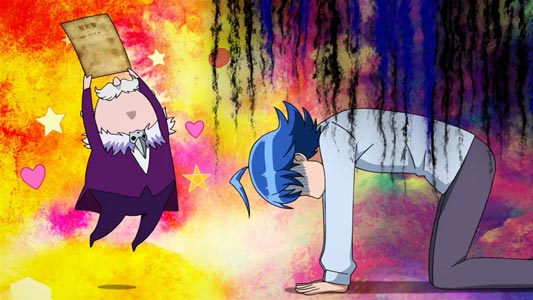 Left: Sullivan サリバン
Right: Suzuki Iruma 鈴木入間,
Anime: Mairimashita! Iruma-kun 魔入りました!入間くん (Episode 1)
Spotlight
Sometimes, theater spotlights are used with orz to exaggerate the tragedy surrounding the character.
Character: Minami Kana 南夏奈
Anime: Minami-ke みなみけ (Episode 3, Stitch)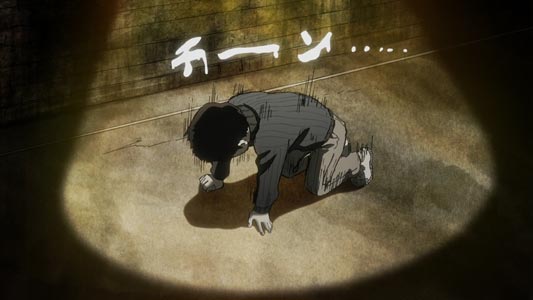 Character: Kageyama Shigeo 影山茂夫
Anime: Mob Psycho 100 II (Season 2) (Episode 2)
chiin...
チーン・・・
Ting. The sound of a bell, specifically the ones tinged in a household Buddhist altars before praying for deceased family members. In anime, tinged when characters feel kinda dead inside.
Character: Selen Hemein セレン・ヘムアエン
Anime: Tatoeba Last Dungeon Mae no Mura no Shounen ga Joban no Machi de Kurasu You na Monogatari, たとえばラストダンジョン前の村の少年が序盤の街で暮らすような物語 (Episode 7)
Context: Selen uses her belt to place a spotlight over herself.
Similar Poses
Not to be confused with the dogeza 土下座, which is a pose of prostration often used to apologize or beg at someone's feet.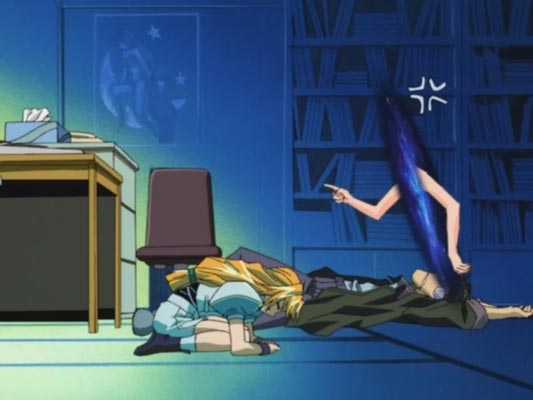 Left: Excel エクセル
Right: The Great will of the Macrocosm, Dai-Uchuu no Oinaru Ishi 大宇宙の大いなる意思
Anime: Excel♥Saga, エクセル♥サーガ (Episode 1)
Context: Excel apologizes to the universe.
References