In Japanese, Peko-jita ペコ舌, literally the "tongue," shita 舌, of Peko, refers to drawing characters with a tongue sticking out at the corner, and sometimes with eyelashes, resembling or parodying the iconic candy character Peko-chan ペコちゃん.(dic.pixiv.net)
The word shita した becomes jita じた as a suffix due to rendaku 連濁.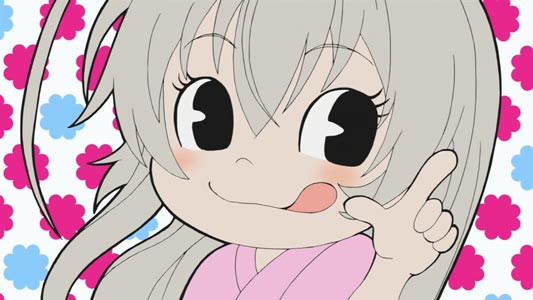 Character: Nyaruko ニャル子
Anime: Haiyore! Nyaruko-san 這いよれ!ニャル子さん (Episode 7)
ペコちゃん
For reference, this is what the mascot character Peko-chan ペコちゃん, from Fujiya 不二家 co. ltd. looks like: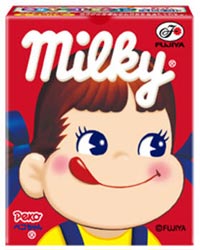 Milky is a brand of candy.
Examples
Sometimes, this iconic tongue is used to parody the brand in anime.
Character: Hachikuji Mayoi 八九寺真宵
Anime: Nisemonogatari 偽物語 (Episode 1)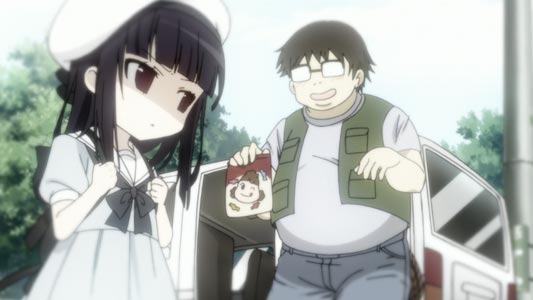 Anime: Inu x Boku SS, 妖狐×僕SS (Episode 5)
Context: a van driver offers free candy to a little girl.
Top-left: Persephone II, ペルセポネ2世
Bottom-Right: a parody of Peko-chan ペコちゃん
Anime: Jashin-chan Dropkick', 邪神ちゃんドロップキック' (Season 2) (Episode 4)
Sometimes, the style is parodied in characters doing a tehe pero てへぺろ. For example: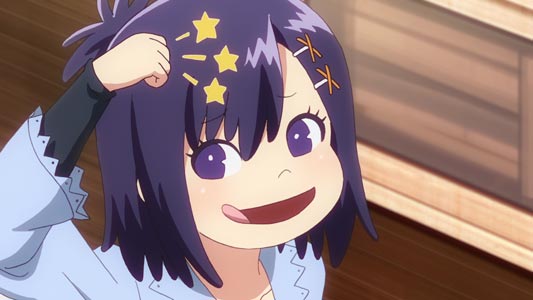 Character: Vignette ヴィネット
Character: Oreki Houtarou 折木奉太郎
Anime: Gabriel DropOut, ガヴリールドロップアウト (Episode 9)