In manga and anime, sometimes a flame is drawn burning inside a character's eye, even though their eyes aren't actually on fire. This can happen for various reasons:
The character is burning with excitement or interest.
They're burning with rage, they're hot-headed.
They're about to use a skill and the fire eyes just look pretty awesome.
They have fire-based abilities. Their eyes are actually on fire.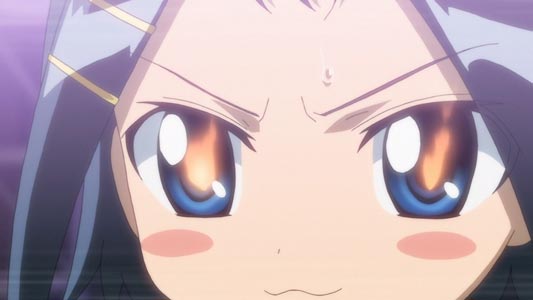 Character: Ikeda Kana 池田華菜
Anime: Saki 咲 (Episode 19)
Vocabulary
And some related words:
moeru
燃える
To burn.
atsui
熱い
Hot. (to the touch.)
atsuku naru
熱くなる
To become hot. (literally.)
To become fervid. (agitated, excited, enraged, etc.)
hi
火
Fire.

hi
日
The Sun. (the huge ball of fire in the sky.)
Day. (24 hours.)
kazan
火山
"Fire-mountain."
Volcano.

honoo
炎
Flame.

honoo-me
炎目
Flame eyes.
en'en
炎炎
Fiery.
En'en no Shouboutai
炎炎ノ消防隊
Fiery Fire-Brigade. (English title: Fire Force.)
Examples
For reference, some examples of fire eyes in anime: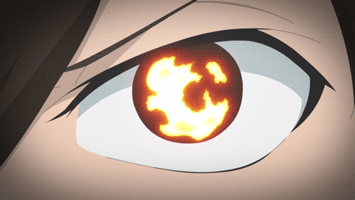 Character: Shibata Genzou 柴田源蔵
Anime: Hataage! Kemono Michi 旗揚!!けものみち (Episode 8)
Context: Genzou speaks passionately about one of the two things he cares about: pro-wrestling.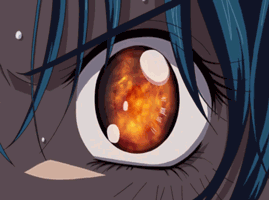 Character: Chidori Kaname 千鳥かなめ
Anime: Full Metal Panic, フルメタル・パニック! (Episode 3)
Context: Kaname is angry at boys for being perverts.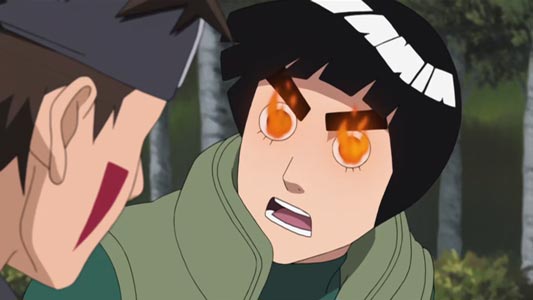 Left: Inuzuka Kiba 犬塚キバ
Right: Rock Lee ロック・リー
Anime: Naruto: Shippuden -ナルト- 疾風伝 (Episode 103)
Context: Rock Lee wants to hear details about something.
kwsk
(internet slang.)

kuwashiku oshiete
詳しく教えて
Teach [me] about [it] in detail.
kuwashii
詳しい
[Knowing something] in detail.
Being knowledgeable about [something].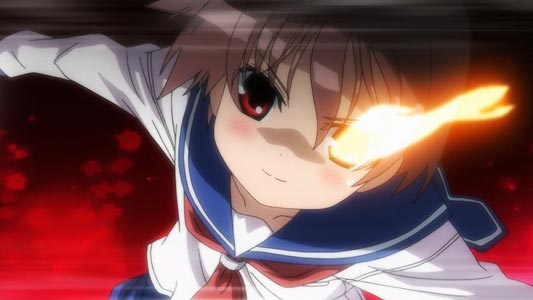 Character: Miyanaga Saki 宮永咲
Anime: Saki 咲 (Episode 19)
Context: Saki unleashes her special skill: kan 槓.
Left: Riho Flavin リホ・フラビン
Middle: Selen Hemein セレン・ヘムアエン
Right: Phyllo Quinone フィロ・キノン
Anime: Tatoeba Last Dungeon Mae no Mura no Shounen ga Joban no Machi de Kurasu You na Monogatari, たとえばラストダンジョン前の村の少年が序盤の街で暮らすような物語 (Episode 10)
Context: three different characters have three different objectives.
The one with money eyes seeks money.
The one with heart eyes seeks love.
The one with fire eyes seeks battle.