In Japanese, usamimi うさみみ means "bunny ears" or "rabbit ears." It's a portmanteau combining the words usagi 兎, "bunny," "rabbit," and mimi 耳, "ears." In other words: it's an abbreviation of usagi-mimi 兎耳.
Like "cat ears," nekomimi 猫耳, usamimi is a specific type of kemomimi ケモミミ, and normally refers to headbands featuring bunny ears, or characters featuring bunny ears, rather than the actual ears of a bunny.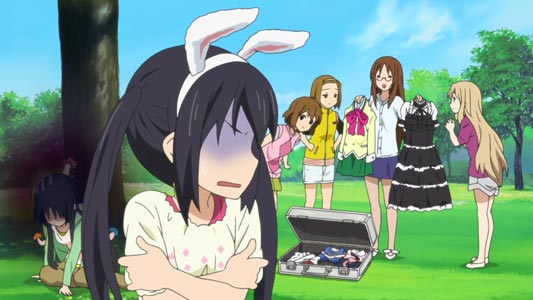 Character: Nakano Azusa 中野梓
Anime: K-On!, Keion! けいおん! (Episode 9)
Examples
For reference, some examples of characters wearing usamimi.
Left: Shirogane Miyuki 白銀御行
Middle: Fujiwara Chika 藤原千花
Right: Shinomiya Kaguya 四宮かぐや
Anime: Kaguya-sama wa Kokurasetai? ~Tensai-Tachi no Ren'ai Zunousen~ かぐや様は告らせたい?~天才たちの恋愛頭脳戦~ (Season 2) (Episode 3)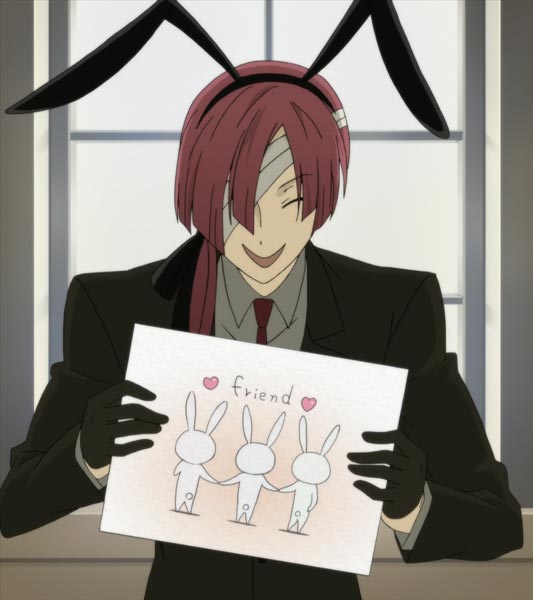 Character: Natsume Zange 夏目残夏
Anime: Inu x Boku SS, 妖狐×僕SS (Episode 6)
Plus Suit
Often, usamimi is worn together with a corset, pantyhose, tail, and detachable collar and cuffs. This is called a bunny suit.
See Bunny Girl for details.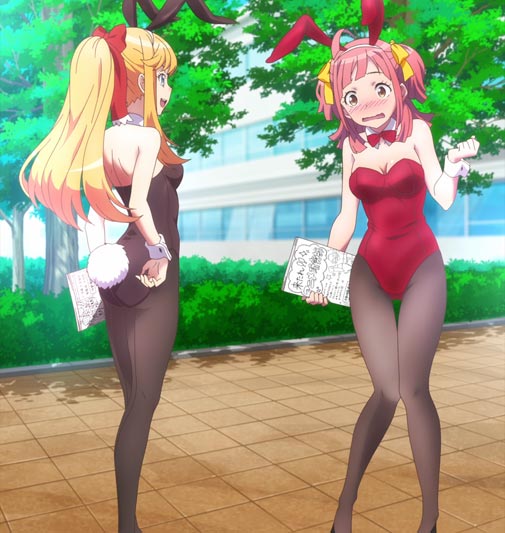 Left: Kamiigusa Arisu 上井草有栖
Right: Asagaya Minoa 阿佐ヶ谷未乃愛
Anime: Animegataris, アニメガタリズ (Episode 2, Stitch)
Natural
An example of natural bunny ears:
Left: "Black Rabbit," Kuro-Usagi 黒ウサギ
Right: Kasukabe You 春日部耀
Anime: Mondaiji-tachi ga Isekai kara Kuru Sou Desu yo? 問題児たちが異世界から来るそうですよ? (Episode 1)
Using Peace Signs
Bunny ears made using peace signs are called usa-piisu うさピース.
Character: Maeda Kanon 前田果音
Anime: Photokano, フォトカノ (Episode 1)