In Japanese,
shibari
縛り means "binding" or "tying." It's the noun form of the verb
shibaru
縛る, which means "to bind" or "to tie up."
Meaning
In English, the term
shibari
normally refers to rope bondage. This term is used in real-life BDSM and pornography, but also within the anime-fandom discussing
hentai
pornography.
Although
shibari
may
refer to rope bondage in Japanese, that isn't necessarily always the case.
For example,
shibari-kata
縛り方 literally "method of typing up," refers to the way something is tied up. Someone using this word could be talking about the various methods and patterns found in rope bondage, but they could also just be be asking how to tie a necktie.
Because of this, the term
shibari purei
縛りプレイ, literally "shibari play," is less ambiguous than just
shibari
, as it refers specifically to the kind of SM play involving "tying [with rope]."
緊縛
The term
kinbaku
緊縛, "binding tightly," is also used in an almost synonymous way with
shibari
. The term
kinbaku purei
緊縛プレイ would refer unambiguously to its SM play.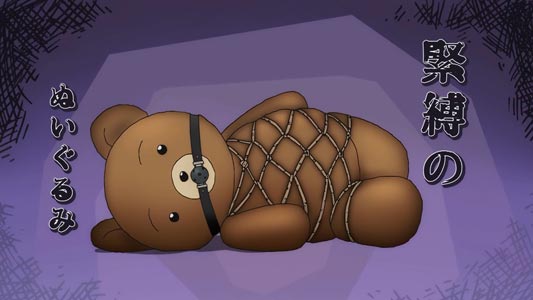 Anime: Seitokai Yakuindomo 生徒会役員共 (Episode 4)
kinbaku no nuigurumi
緊縛のぬいぐるみ
Tightly bound stuffed toy.
Note that this word is partially written with
the kanji for the word
shibari
縛り, combined with the
kanji
for the word "(for something wrapped) to tighten,"
shimaru
緊まる.
Shibari vs. Kinbaku
Although the two terms are near-synonymous, the difference between
shibari
and
kinbaku
is pretty simple.
You can very much infer that
kinbaku
refers strictly to tighter bondage. Rope loosely tied around someone as if it were a decoration wouldn't quality for
kinbaku
, even though it might be called
shibari
.
Vocabulary
For reference:
nawa
縄
Rope.
nawa de shibaru
縄で縛る
To tie with rope.
nawa de shibarareru
縄で縛られる
To be tied with rope.
kame
亀
Turtle.
kikkou shibari
亀甲縛り
Tortoise-shell bondage. Turtle-shell bondage.

Literally "tortoise-shell tying," a method of shibari where the rope forms hexagons that look like the pattern on a tortoise shell.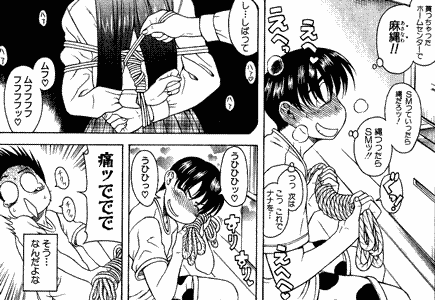 Manga: Nana to Kaoru ナナとカオル (Chapter 7, ロープをしごけ!!)
kacchatta, hoomu sentaa de, asanawa!!
買っちゃった ホームセンターで 麻縄!!
[I] bought [it], at the hardware store, hemp rope!!
esu-emu tte ittara nawa daro'!
SMっていったら縄だろッ!
[If you say SM, you think of rope, right!]
nawa tsuttara esu-emu!!
縄つったらSMッ!!
If you say rope, SM!!
tsu tsu tsugi wa ko' kore de Nana wo... shi... shibatte
つつ 次はこっ これでナナを・・・ し・・・ しばって
N-n-next time, [I] will use t-this to... t-tie... Nana up.
mufu♡ mufufufufufufufufu'♡
uhihihi'♡ uhihi'♡
ムフ♡ムフフフフフフフフッ♡
うひひひッ♡うひひっ♡
*unintelligible noises*

haa haa
ハァーハァー
*panting in the background.*

iddedede
痛ッででで
(very painful orthography.)

itai
痛い
Painful.
[It] hurts.

sou... nanda yo na
そう・・・なんだよな
[Oh... that's right.]

According to the manga, hemp rope isn't meant to tie people up, and Kaeru カエル needs to boil the rope, among other things, to make it suitable for use.