In Japanese, shibari 縛り means "binding" or "tying," and may refer to some sort of "restraint," "binding," or "tie." It's the noun form of the verb shibaru 縛る, which means "to bind" or "to tie up."
Anime: Bokusatsu Tenshi Dokuro-chan, 撲殺天使ドクロちゃん (Season 2) (Episode 2)
Meaning
Literally, shibari refers to the act of binding or tying something up, or refers to the binding itself. This could be a physical restraint that binds something, or something like a promise or contract that restricts what they can do.
te-ashi wo shibaru
手足を縛る
To tie up [someone's] arms and legs.
To bind [someone's] limbs.


kousoku suru
拘束する
To restrain [someone].

keiyaku ni shibararete-iru
契約に縛られている
To be bound to the contract.


yakusoku suru
約束する
To promise.
kinshi
禁止
Forbidden.
kinjiru
禁じる
To forbid.
fuin suru
封印する
To seal. (a power, a demon, etc.)
The verb shibaru only means "to tie" in the sense of tying up people or things to restrain them. If you're tying up something onto itself, the verb used is "to link," musubu 結ぶ.
kutsu-himo wo musubu
靴紐を結ぶ
To link the shoe-string.
To tie one's shoes, by linking the shoe-string with itself.
nekutie wo musubu
ネクタイを結ぶ
To link the necktie.
To tie the necktie.
Rope Bondage
In English, the term shibari normally refers to rope bondage. This term is used in real-life BDSM and pornography, but also within the anime-fandom discussing hentai pornography.
shibari-purei
縛りプレイ
A shibari "play," with "play" in the sense of SM play.
nawa de shibaru
縄で縛る
To bind with rope.
nawa de shibararete-iru
縄で縛られている
To be bound with rope.
Anime: Ishuzoku Reviewers, 異種族レビュアーズ (Episode 8)
As far as the verb shibaru is concerned, you can tie someone up with any rope-like thing, not exclusively rope. Common situations in anime include:
kusari
鎖
Chains.
shokushu
触手
Tentacles.
kumo no ito
蜘蛛の糸
A spider's thread.
ribon
リボン
Ribbon.
waiyaa
ワイヤー
Wire.
If a character is restrained by being wrapped by something thick into a burrito, that's called sumaki 簀巻き instead.
In anime, some characters often try to restrain other characters or end up restrained as a joke. This is sometimes ingrained in the personality of a character.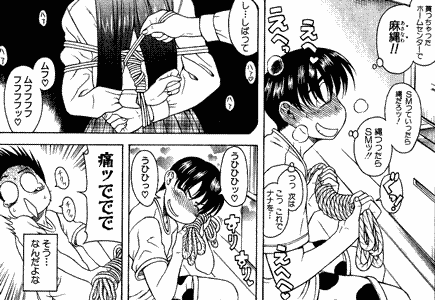 Manga: Nana to Kaoru ナナとカオル (Chapter 7, ロープをしごけ!!)
kacchatta, hoomu sentaa de, asanawa!!
買っちゃった ホームセンターで 麻縄!!
[I] bought [it], at the hardware store, hemp rope!!
esu-emu tte ittara nawa daro'!
SMっていったら縄だろッ!
[If you say SM, you think of rope, right!]
nawa tsuttara esu-emu!!
縄つったらSMッ!!
If you say rope, SM!!
tsu tsu tsugi wa ko' kore de Nana wo... shi... shibatte
つつ 次はこっ これでナナを・・・ し・・・ しばって
N-n-next time, [I] will use t-this to... t-tie... Nana up.
mufu♡ mufufufufufufufufu'♡
uhihihi'♡ uhihi'♡
ムフ♡ムフフフフフフフフッ♡
うひひひッ♡うひひっ♡
*unintelligible noises*

haa haa
ハァーハァー
*panting in the background.*

iddedede
痛ッででで
(very painful orthography.)

itai
痛い
Painful.
[It] hurts.

sou... nanda yo na
そう・・・なんだよな
[Oh... that's right.]

According to the manga, hemp rope isn't meant to tie people up, and Kaeru カエル needs to boil the rope, among other things, to make it suitable for use.
vs. Kinbaku 緊縛
The term kinbaku 緊縛, meaning "binding tightly," is similar to shibari in SM.
The difference between shibari and kinbaku is that kinbaku typically refers to the practice of tying someone up in a way they can barely move, while shibari refers to the "tie" used to tie them up, i.e. how the rope is tying the person, the position of the knots, etc.
shimaru
緊まる
(For something wrapped) to tighten.
kinbaku-purei
緊縛プレイ
Tightly-binding play.
kinbaku-shi
緊縛師
A kinbaku master. Known as a "rigger" in English. A person with expertise in how to tie people up.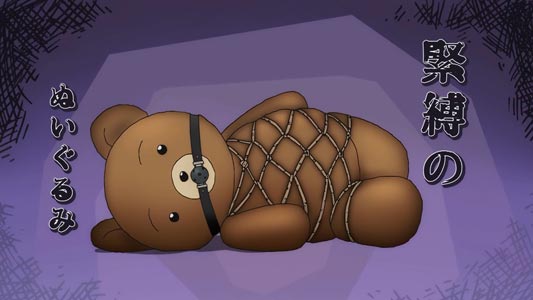 Anime: Seitokai Yakuindomo 生徒会役員共 (Episode 4)
kinbaku no nuigurumi
緊縛のぬいぐるみ
Tightly bound stuffed toy.
In Gaming
In gaming, sometimes a player completes a game once and goes play it again, but feels like it's too easy the second time, so, for added challenge, they impose on themselves restrictions like:
Beating the boss without getting hit.
Not using a powerful skill or item.
Not saving, completing the game in one run without dying.
And so on.
In Japanese, this is called[縛りプレイ - atwiki.jp, accessed 2021-02-21]:
shibari-purei
縛りプレイ
A shibari "play," in the sense of a game play.
Note that shibari-purei ends up with two meanings: the SM play meaning, and the gaming play meaning, so it's possible some series out there may make a wordplay on this.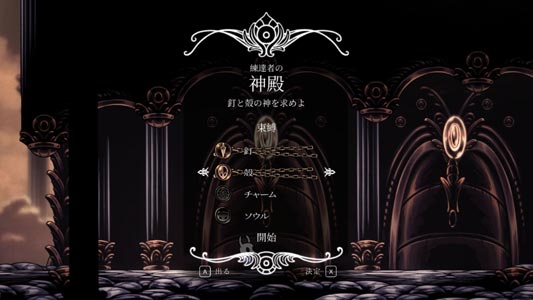 Game: Hollow Knight, ホロウナイト (Area: Godhome)
Context: In Hollow Knight, there's an area called Godhome in which you can play against multiple bosses one after the other, i.e. it's a boss rush mode. You have the option to enable restraints to weaken yourself for added challenge.
rentatsu-sha no shinden
練達者の神殿
Temple of the Expert. (literally.)
Pantheon of the Master. (original English version.)
kousoku
拘束
Restraints. (chains, in this case, as the enabled restraints are struck through with binding chains.)
kugi
釘
Nail. (decreases attack power.)
kara
殻
Shell. (decreases max HP.)
chaamu
チャーム
Charm. (disables extra abilities.)
souru
ソウル
Soul. (decreases max MP.)
kaishi
開始
Begin.
deru
出る
Exit.
kettei
決定
Confirm.
Types of Ties
Practitioners of shibari, in the rope bondage sense, have developed all sort of patterns of "ties," or "rope bindings," enough to write whole books on the subject. Some of these ties have names, so, for the sake reference, I'll list the names of some common shibari bindings here.
Anime: Hanasaku Iroha 花咲くいろは (Episode 3)
Context: Jiroumaru Tarou 次郎丸太郎 tries to learn a new skill.
shibari hyakusen
縛り百選
Top one-hundred ties.
Although the terms for shibari ties may sound fancy and exotic to some, they're literally called as-is in Japanese, by what they look like.
As a consequence, the terms aren't very exact. A single tie can have multiple variations. And, also, some ties are only about legs while others only about arms, so you can be tied with two different "ties" at once.
kikkou shibari
亀甲縛り
Turtle-shell tie. Which has hexagon shapes.
hishi nawa shibari, hishi shibari, or hishi-gata shibari
菱縄縛り, 菱縛り, 菱形縛り
Diamond rope tie, diamond tie, diamond shape tie. Which has diamond shapes instead of hexagons.
kani shibari
蟹縛り
Crab tie. Which binds the left wrist and elbow to the left ankle and calf, and does the same to the right side, so that the person bound is hunching forward.
agura shibari
胡座縛り
Crossed legs tie. Which binds the legs together in front of the person.

agura あぐら - the term for sitting on the floor with legs crossed.
Character: Kinutsugai Ririko 絹番莉々子
Anime: Hisone to Maso-tan ひそねとまそたん (Episode 5)
emu-jii kaikyaku shibari
M字開脚縛り
Letter M open-legs tie. Which keeps the legs spread open and knees bent, forming the letter M from one foot to the other.

mata-nawa shibari
股縄縛り
Crotch rope tie. Which ties a rope belt around the waist, with a rope wrapping around the crotch.
ippon shibari
一本縛り
Single-strand tie. Which binds both legs together into a single mermaid-like leg. Alternatively, binding both arms together instead.

~hon ~本 is a counter for cylindrical objects, including limbs. "Two" legs is ni-hon 二本 because they're two cylinder-shaped objects. If they were merged together into a single cylinder, they would become ippon 一本.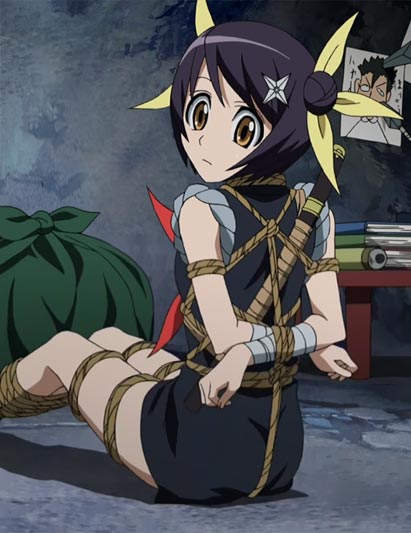 Character: Hinata Himawari 日向ひまわり
Anime: Himawari! ひまわりっ! (Episode 13, Stitch, Cropped)
takate-kote shibari
高手小手縛り
High-hand small-hand tie. (literally.)
Upper-arm and forearm tie. Which binds BOTH the arm (takate) and forearm (kote), typically behind one's back with a rope that comes down from the neck wrapping around biceps and wrists.

Also known as a "box tie" in English.

shitate-kote shibari
下手小手縛り
Down-hand small-hand tie.
Hands-down forearm tie. Which binds the forearms together downwards.
gote shibari, or ushiro-te shibari
後手縛り
Hands-behind tie. Any tie that binds arms behind the person's back.

Also known as box tie in English.

mae-te shibari
前手縛り
Hands-forward tie. Any tie that binds arms in front of the person.
kata-te shibari
片手縛り
Single-hand tie. Any tie that only binds one hand, instead of both, e.g. kata-te ushiro-te is one arm behind.
haimen gasshou shibari
背面合掌縛り
Back met-hands tie. A tie with the hands behind back, palms pressed against each other, as if they were praying.
teppou shibari
鉄砲縛り
Gun tie. A tie with both hands behind back forming a diagonal, one wrapping around the waist, the other coming from above the shoulder. Presumably the name comes the idea of a gun, like a rifle, strapped on your back, and the hands forming a similar shape.
te-age shibari
手上げ縛り
Hands-up tie. A tie with both hands behind back coming from above the shoulders.
Character: Kaminari Ai 上成愛
Anime: Yatterman, Yattāman ヤッターマン (Episode 38)
tsuri
吊り
Hoisting. When the rope is connected to the ceiling, pulling something up..
chuu-dzuri
宙吊り
Mid-air hoisting. When the person is suspended by rope.
bubun-dzuri
部分釣り
Part hoisting. When only a body part, like a leg or arm, is suspended, and the rest of the body touches the ground.
sakasa-dzuri
逆さ釣り
Upside-down hoisting. When someone is pulled up by their feet.
Tortoise Shell Bondage
The "tortoise shell binding," or kikkou shibari 亀甲縛り, is the single most popular type of shibari tie, featured even in anime targeted at general audiences. It has a distinctive pattern that's easily recognizable even for people who don't know anything about bondage.
It's the manji-gatame 卍固め of the shibari world.
However, there's one little problem: what most people THINK is the tortoise shell binding, ISN'T the tortoise shell binding, but something extremely similar instead.
Now, normally nobody would care, but this being a blog about Japanese words, allow me to be pedantic about what words mean.
This is what a genuine kikkou shibari looks like:
Character: Arisa Ahokainen 有紗・アホカイネン
Anime: Akiba's Trip The Animation (Episode 6, Stitch, Cropped)
Observe that the rope forms two hexagonal shapes. Why hexagons? Because a tortoise's shell has a hexagonal pattern in it. Why does a tortoise shell have a hexagonal pattern in it?
Because hexagons... are the bestagons.
The point is that this is only called tortoise shell bondage because of the bestagons. Tortoise shells have bestagons, this shibari tie has bestagons, so this is the best tie, I mean, this is a tortoise shell tie.
But, normally, unfortunately, to my great sadness, what's called and known as tortoise shell bondage is instead this aberration of geometry: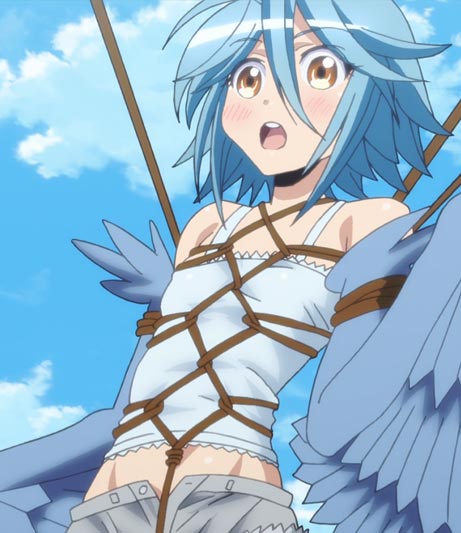 Character: Papi パピ
Anime: Monster Musume no Iru Nichijou, モンスター娘のいる日常 (Episode 10, Cropped, Stitch)
Look at this. Those are diamonds. Four sides. Four. Not bestagons with six sides.
The term for this tie would instead be:
hishi nawa shibari
菱縄縛り
Diamond rope binding.


hishi
菱
Water caltrop. It's diamond-shaped, so it also refers to a diamond shape.

mitsubishi
三菱
Three diamond-shapes. (literally what Mitsubishi's logo looks like.)

daiyamondo
ダイヤモンド
Diamond. (as in the gem.)
In parts of the English shibari community, the hishi-nawa shibari is even called a "hishi karada" or even just a "karada" instead. The word karada 体 means "body," and it's not the name of any shibari pattern at all.
I realized that's the naming that The Duchy uses, but it's very incorrect.[NSFW: some reddit user - reddit.com/r/shibari/]
The obvious reason why the bestagon shibari is reduced to this lesser quadrilateral version is because it's simpler, and therefore easier, to pull the central ropes only once to the side instead of doing so twice.
亀甲縛りについてのよくある間違いとその見分け方です。ウィキペディアに載ってる写真ですら間違えてるくらいあやふやに認識されがちな縛りの正確な区別はこうらしいです。 pic.twitter.com/L4P4uxp5xR

— おれたちの非常口案内人 Dr.リトルハッピー (@hijoguchi_ch) April 13, 2017
I'm actually a bit disappointed, you know, because too many examples I thought I had I found of tortoise shell bondage in anime turned out to be this quadrilateral ripoff. Observe:
Character: Sarutobi Ayame 猿飛あやめ; Sacchan さっちゃん
Anime: Gintama 銀魂 (Episode 67)
This is hishinawa shibari.
Character: Shidare Hotaru 枝垂ほたる
Anime: Dagashikashi だがしかし (Episode 12, Stitch)
This is hishinawa shibari.
Anime: Kaze ga Tsuyoku Fuiteiru 風が強く吹いている (Episode 8)
This is how you stop smoking.
A couple more NSFW examples:
See, none of these are kikkou shibari, they're all hishinawa shibari for some reason. I'd wager the fake tortoise shell is even more common than the genuine tortoise shell, which kind of sounds like someone flooded the market with fake ones to save the turtles or something.