In Japanese,
ore-sama
俺様 is the over-the-top combination of the first person pronoun,
ore 俺
, and the reverent
honorific suffix
sama 様
. Basically,
ore-sama
means the same thing as
ore
, "I," "me," in English, except it's
ridiculously
pompous and people would only use it in real life as a joke.
Which means it's mostly a trope used in manga and anime. (just like
kisama 貴様
.)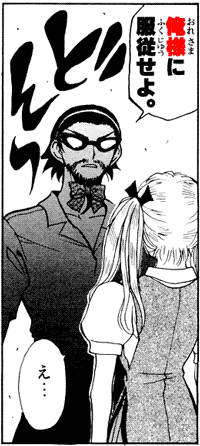 Manga: School Rumble, スクールランブル (Chapter 66, The Razor's Edge)
ore-sama ni
fukujuu se yo.
俺様に服従せよ。
Submit to me.

I command thee to submit to THE GREAT ME.

e...
え…
Eh...
Characters use
ore-sama
to imply they're extremely important. It's used by the type of character that would say "I'm the strongest" or "the smartest" or "the bestest" or stuff like that.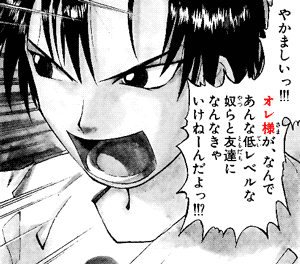 Manga: Zatch Bell!, Konjiki no Gash!! 金色のガッシュ!! (Chapter 1, 清麿、正義の味方)
yakamashii'!!!
やかましいっ!!!
[You're] noisy!!!
[Stop annoying me!!!]
That doesn't mean it's true, though, it just means that's what they think about themselves.
Manga: Dragon Ball, ドラゴンボール (Chapter 225, ナッパ ても足も出ず)
ko' kono ore-sama ga
taishita koto
nai dato......!!!!
こっ このオレさまがたいしたことないだと・・・・・・!!!!
Th-- this me isn't [a big deal], [you] say......!!!!
sou da
そうだ
[That's right.]
ima no kougeki de
wakatta
いまの攻撃で わかった
With [that] attack [just] now [I] realized.
(Goku figured Nappa isn't a big deal from how weak his attack was.)