In Japanese,
tenten
点々 means "dots" or "points." It's a
reduplication
of
ten
点, which means a "dot" or "point."
The word is sometimes used to refer to symbols that look like dots, such as
dakuten 濁点
(゛) and the
ditto mark
(〃), which are also called
chonchon
ちょんちょん, *striking repeatedly* (
phenomime
), due to how your hand moves in order to write them.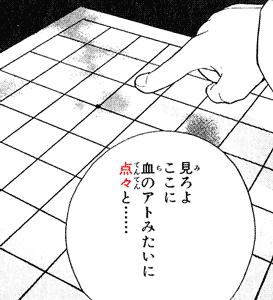 Manga: Hikaru no Go ヒカルの碁 (Chapter 1, 棋聖降臨)
miro yo
見ろよ
Look!
koko ni chi no ato mitai ni ten-ten to......
ここに血のアトみたいに点々と・・・・・・
In here, [something that] looks like blood marks [is stuck] in drops.

ato 跡
Something left behind by something else, usually as evidence.
Tracks, traces, marks, scars, etc.
tenten to 点々と
Scattered around as spots, dots, points.