In anime, sometimes characters' "
eyes
become 3's,"
me ga san ni naru
目が3になる. As in, they become drawn as the number 3, the Arabic numeral.
Not to be confused with having
three eyes
, or a
cat mouth (・ω・)
.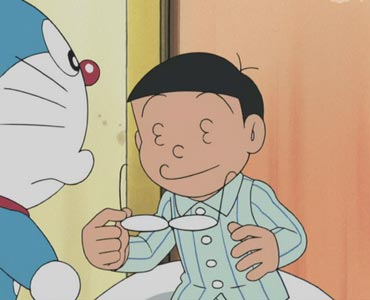 Character: Nobi Nobita 野比のび太
Anime: Doraemon ドラえもん (2005) (Episode 149, ねむりの天才のび太)
Examples
In general, these 3-shaped eyes are used in anime when a character that wears glasses takes off their glasses. Why are they used? Because they're supposed to represent squinting eyes. The upper part of the 3 numeral is the upper eyelid, while the lower part is the lower eyelid.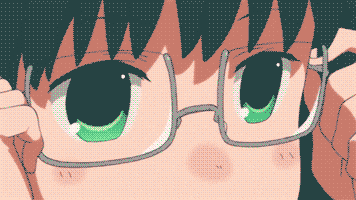 Character: Kuurubiyuutei Gankyou 空琉美遊亭丸京
Anime: Joshiraku じょしらく (Episode 4)
By the way, sometimes
the mouth is drawn as a 3
, too, but that represents something like pouting.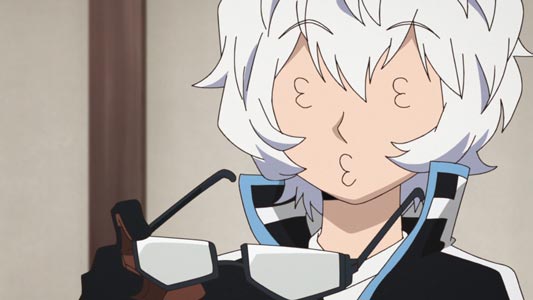 Anime: World Trigger, ワールドトリガー (Episode 16)
Glasses characters constantly and semi-permanently wear glasses. A common time they take off their glasses, and consequently may get 3-shaped eyes, is when they go to sleep.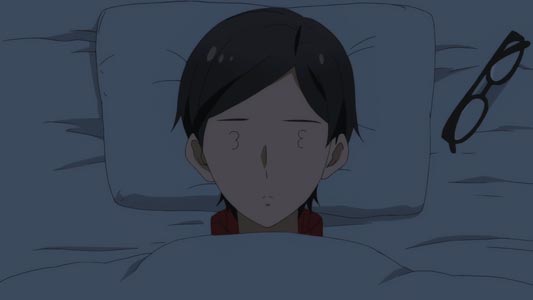 Character: Aizawa Junichi 相沢順一
Anime: Handa-kun はんだくん (Episode 8)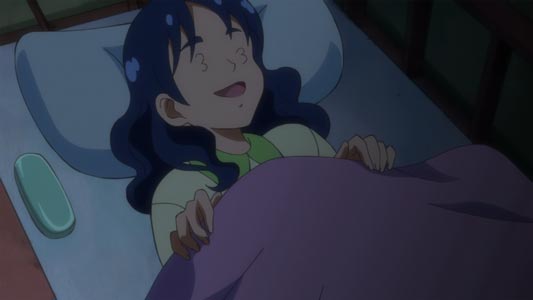 Character: Nanase Yui 七瀬ゆい
Anime: Go! Princess Precure (Episode 3)
Another case is if they lose they glasses.
megane megane
メガネメガネ
Glasses, glasses. (as in: where are my glasses?)
Note that even characters that don't wear glasses can be drawn like this.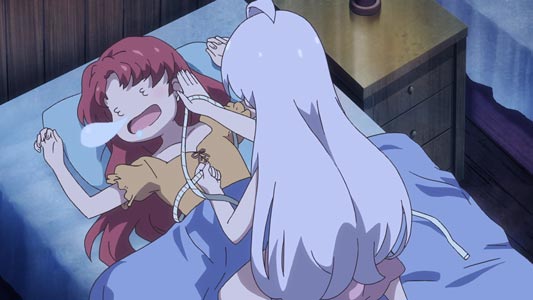 Left: Reina レーナ
Right: Mile マイル
Anime: Watashi, Nouryoku wa Heikinchi de tte Itta yo ne! 私、能力は平均値でって言ったよね! (Episode 10)
A snot bubble is another symbol used when characters are sleeping.