In anime, sometimes characters' "eyes become 3's," me ga san ni naru 目が3になる. As in, they become drawn as the number 3, the Arabic numeral.
This article is about "3-shaped eyes." Not to be confused with having three eyes instead of two, or having a 3-shaped cat mouth (・ω・).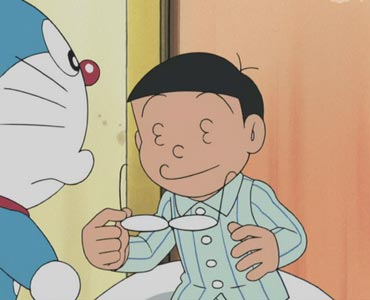 Character: Nobi Nobita 野比のび太
Anime: Doraemon ドラえもん (2005) (Episode 149, ねむりの天才のび太)
Symbol
The 3's symbolize squinting eyes. The upper part of the 3 numeral is the upper eyelid, while the lower part is the lower eyelid.
私の授業の受講者さんでしょうか。のび太君の場合は、眼鏡を外して目を凝らしたときの起伏かと思ってました(藤子先生の研究してないので、ひょっとこかも知れませんが)。 https://t.co/ZdhcXVfrEe pic.twitter.com/QNuKmrGF6L

— 伊豆の美術解剖学者 (@kato_anatomy) April 16, 2021
Examples
In general, these 3-shaped eyes are used in anime when a character that wears glasses takes off their glasses.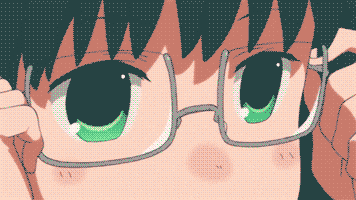 Character: Kuurubiyuutei Gankyou 空琉美遊亭丸京
Anime: Joshiraku じょしらく (Episode 4)
By the way, sometimes the mouth is drawn as a 3, too, but that represents something like pouting.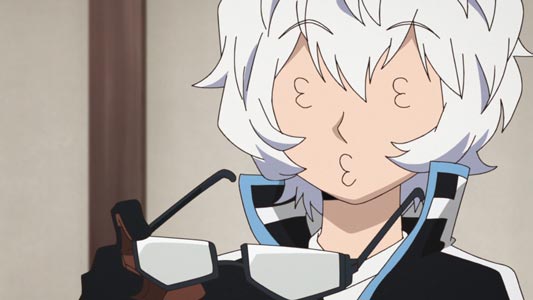 Anime: World Trigger, ワールドトリガー (Episode 16)
Glasses characters constantly and semi-permanently wear glasses. A common time they take off their glasses, and consequently may get 3-shaped eyes, is when they go to sleep.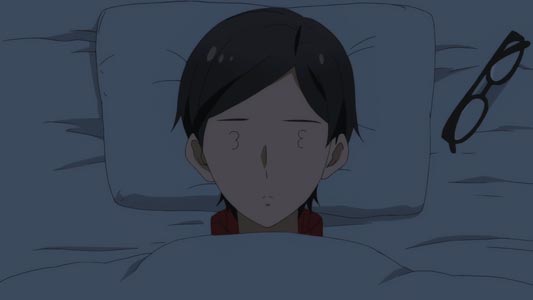 Character: Aizawa Junichi 相沢順一
Anime: Handa-kun はんだくん (Episode 8)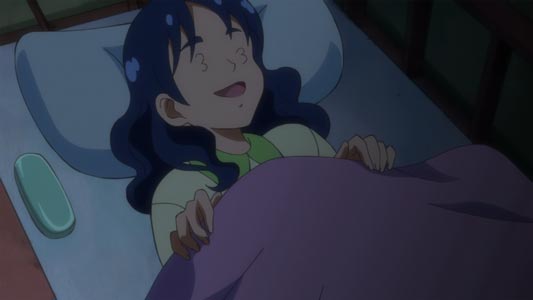 Character: Nanase Yui 七瀬ゆい
Anime: Go! Princess Precure (Episode 3)
Another case is if they lose they glasses.
megane megane
メガネメガネ
Glasses, glasses. (as in: where are my glasses?)
Note that even characters that don't wear glasses can be drawn like this.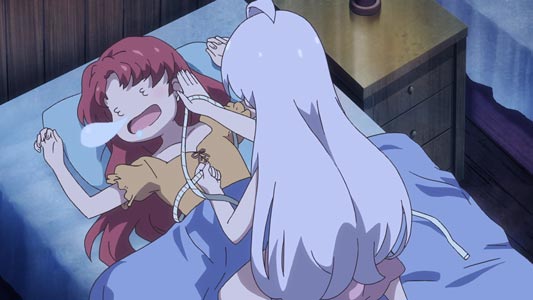 Left: Reina レーナ
Right: Mile マイル
Anime: Watashi, Nouryoku wa Heikinchi de tte Itta yo ne! 私、能力は平均値でって言ったよね! (Episode 10)
A snot bubble is another symbol used when characters are sleeping.
4 Eyes
Since drawing eyes like 3's is alright, why we stop there? Here, have some number 4 eyes: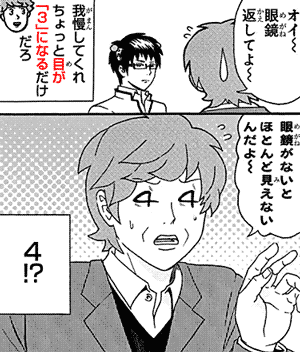 Manga: Saiki Kusuo no Psi-Nan, 斉木楠雄のΨ難 (Chapter 72, さわぐ!PK学園文化Ψ(後編))
Context: Saiki borrows his father's glasses without permission.
oi~~ megane kaeshite yo~~
オイ~~眼鏡返してよ~
Heey, give [my] glasses back~~
gaman shite kure chotto me ga "san" ni naru dake daro
我慢してくれちょっと目が「3」になるだけだろ
Please endure [it], [all that will happen is that] [your] eyes will become "threes."
megane ga nai to hotondo mienai-n-da yo~~
眼鏡がないとほとんど見えないんだよ~
Without [my] glasses [I] almost can't see.
yon!?
4!?
Fours!?
Again, not to be confused with having four eyes.