In manga and anime, sometimes characters are drawn with "watery eyes,"
uru-uru-me
うるうる目, in which case the eyes may be drawn simplified as large and with multiple highlight spots.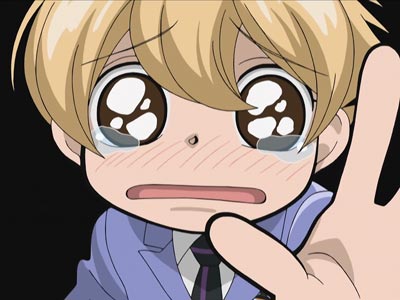 Character: Honey-senpai ハニー先輩
Anime: Ouran High School Host Club, Ouran Koukou Hosuto-Bu 桜蘭高校ホスト部 (Episode 12)
Often, characters drawn with this sort of eye will be begging for something, so they're like "puppy dog eyes."
The word
uru-uru
うるうる is a
reduplication
of
urumu
潤む, which means just "to be wet." See
namida-me 涙目
for eyes that have tears on them, and
nakigao 泣き顔
for characters actually crying.
References