In Japanese, torogao トロ顔 is an NSFW term meaning "drowsy face." It's often mistranslated and misinterpreted as "melting face," in particular in the meme know your gaos.
A torogao is a facial expression of (sexual) pleasure with eyes heavy, half-closed, implying the character is intoxicated or lethargic, robbed of their strength by something that felt too good.
The words "drowsy" and "groggy" are terms for such state in English, although they typically refer to sleepiness. I can't find a better word for this, so I guess torogao translates to "drowsy face."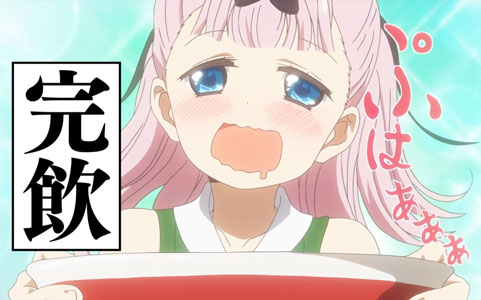 Anime: Kaguya-sama wa Kokurasetai ~Tensai-Tachi no Ren'ai Zunousen かぐや様は告らせたい~天才たちの恋愛頭脳戦~ (Episode 11)
Context: food is delicious.
kan'in 完飲
Drinking it all. (in this case, ramen.)
This term was featured in the meme template know your gaos.