In Japanese, anime アニメ means "animation," from the katakanization animeeshon アニメーション, as in cartoons that move around. Any animated drawing is an anime. In English, anime refers to Japanese animation, just like manga 漫画 refers to Japanese comics.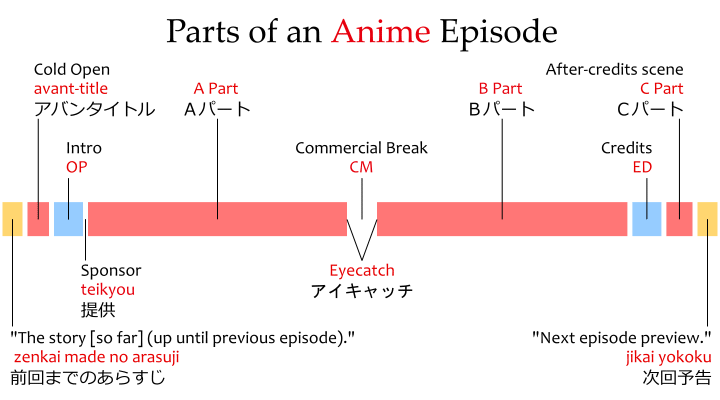 Types
There are several types of anime.
TVアニメ
A terebi-anime テレビアニメ, or TV anime, TVアニメ, is an anime that airs on television. Such anime tends to follow a specific format, around 20 minutes long, with a commercial break at middle.
A TV anime may get sold as physics discs (DVDs, Blu-ray) after it airs on TV.
OVA, ONA, OAD
The terms OVA, ONA, and OAD refer to anime series and episodes that weren't originally released on TV, but somewhere else, even if they air on TV afterwards.
An OVA is an anime originally sold in a physical disc. This could be an entire series sold as discs, or a single bonus episode that never aired on TV but was bundled in the blu-ray set of a TV anime.
An ONA is an anime originally streamed on the internet. This is an English term. In Japanese, ONA is called web anime WEBアニメ.
An OAD is an anime originally bundled into a volume of a manga, typically a limited edition volume released after an anime based on that manga airs on TV.
Cel
The term cel animation, seru anime セルアニメ, refers to a traditional method for creating anime, using celluloid sheets for the frames. This is the method used in pre-2000 anime. Modern anime is animated digitally instead.
There are large differences between cel anime and digital anime. They're different media, artistically speaking, and some fans may prefer one over the other. Personally, I prefer cel.
An advantage of cel anime are how lines are drawn: they're drawn with ink, so they feel more alive, natural, even if noisy or uneven. Digital anime prefers tends to have more precise, static lines.
Some digital series attempt to simulate the how the cel lines feel, but it just isn't the same thing.
Cel animation stopped being used because it's too expensive to create. From fixing mistakes to turning the frames into video, the whole process is absurdly costly time and effort-wise compared to doing it digitally.
Redline レッドライン (2009) is one of the best known examples of cel animation in the modern era.
Digital animation isn't without its own advantages as an art medium. Mixing 3D with 2D animation, compositing backgrounds, and applying all sorts of film and camera effects, are things that are much easier to do digitally than analogically.
Fate/stay night: Unlimited Blade Works is jokingly called "Unlimited Budget Works" for its digital quality excellence.
3Dアニメ
A 3D anime, in Japanese pronounced surii-dhii anime 3Dアニメ, refers to 3D animation, done in a computer software by modelling characters as 3D models and posing them around.
A few TV anime are entirely done with this process, e.g.:
Kemono Friends けものフレンズ.
Ajin 亜人.
Beastars.
Houseki no Kuni 宝石の国, Land of the Lustrous.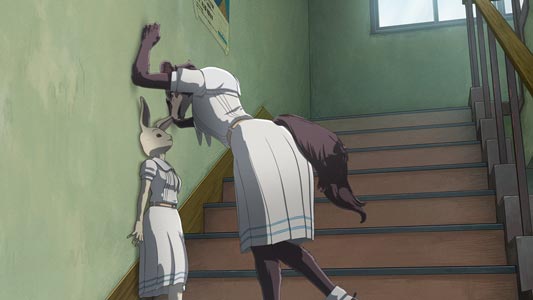 Left: Haru ハル
Right: Juno ジュノ
Anime: Beastars (Episode 12)
CG
The term CG stands for Computer Graphics.(13hw.com) Any graphics done in a computer, digitally, is called CG. In other words, digital art is CG, a digital artist is a CG artist, and a CG anime, CGアニメ, is an anime done digitally, rather than in cel animation.
In particularly, an anime done completely in CG is called "full CG," furu shii-jii フルCG. This can sometimes refer to 3D anime, as 3D images are generated by computer, so they're 3DCG.
CGI
The term CGI stands for Computer Generated Image.(13hw.com) It refers to imagery not drawn by hand, but rendered (simulated) by a computer, which includes all sorts of effects, but, most importantly, 3D images.
In English, it's common to call 3D models (jarringly) inserted into anime CGI. Cars are sometimes CGI, 3D models, rather than hand-drawn.
People don't mind it very much when it's a non-organic object, a machine, but anything organic and 3D is widely despised. In particular, CGI dragons are the worst.
If you're asking yourself "why would an anime have a CGI dragon when the rest of the anime isn't 3D?" Well, that's because a dragon is huge and full of details and takes too long to draw, and the anime production has deadlines and a budget, so it makes more sense to use 3D models.
In series with higher quality, everything is hand-drawn, and the less budget a series has, the more CGI you'll find, until you get to a nightmarish horror like the season 3 of Overlord.
ドットアニメ
A dotto-anime ドットアニメ, literally "dot anime," refers to animated pixel art, i.e. animated dotto-e ドット絵, "dot picture," the sort you would see in a video game ゲーム.

Character: Flowey フラウィ
Game: Undertale (Part: before meeting Toriel)
I'm not aware of any TV anime that's entirely done in pixel art.
However, sometimes a TV anime that parodies a video game will have a scene with characters drawn in animated pixel art.
Mahoujin Guru Guru 魔法陣グルグル (2017) does this several times, as it parodies old JRPGs like Dragon Quest.
Pop Team Epic, Poputepipikku ポプテピピック, does this multiple times too, once when parodying Guilty Gear.
There are websites that deal only with pixel art, like PixelJoint. Sites like Pixiv, which handle all sorts of artwork, may use dotto-anime ドットアニメ as a tag for pixel art animation.
Stop Motion
Besides the above, pretty much every sort of stop motion animation, ストップモーション・アニメーション, is called anime in Japanese. For reference, some terms:
kami anime
紙アニメ
Paper anime.


Not to be confused with the homonym:
kami anime
神アニメ
God animation. As in god-tier, legendary.


kiri-e anime
切り絵アニメ
"Cut-picture animation."
Cutout animation.

Stop motion done by moving paper cutouts around as characters.

kurei anime
クレイアニメ
Clay animation. Claymation.

Done by making models out of clay, e.g. Pingu.

suna anime
砂アニメ
Sand animation.
ningyou anime
人形アニメ
Doll animation. Puppet animation, パペット・アニメーション.
For reference, an example of stop motion anime:
Anime:
Namakura-gatana
なまくら刀 (Cropped, 1917, In Public Domain)
Video Source:
archive.org
, accessed 2021-05-24
Original Source: NFC (National Film Center of Japan)
Context: the lengths a samurai has to go to sheathe his kataka 刀 in a cutout anime.
GIFアニメ
A gifu anime GIFアニメ, also read as jifu, is an animation in GIF format. This isn't the same thing as an animated GIF, which would include a scene of a movie with real people. It's always a drawing, an animated cartoon in GIF format
GIF is an image file format, like JPG and PNG. It differs from those in that a GIF can be animated, so it will have multiple frames instead of a single one. In order to make this feasible in older hardware, the GIF format is limited to at most 256 colors, although some use fewer colors for a smaller file size.
People started converting scenes of movies and shows to animated GIFs to post them on the internet. The format was never meant for video. These files became huge and a waste of bandwidth.
At one point, popular image hosting service Imgur launched what it called GIFV, or GIF Video, which wasn't an original format, but simply an existing video format like MP4 that was presented like a GIF, without sound, without controls, and looping like GIF.(imgur.com)
Nowadays, people call this sort of mute, looping internet video a "GIF," regardless of what file format it's in.
A gif anime GIFアニメ is an anime that's in a mute, looping internet video. Like this:
Character: Kaneda Shoutarou 金田正太郎
Anime: AKIRA アキラ (Movie)
FLASHアニメ
The term Flash animation, or furasshu anime FLASHアニメ, refers to animation created in the software Adobe Flash, previously Macromedia Flash, distributed in a .SWF file format that was playable inside web browsers supported via plugin, which was popularly used by indie animators.
Nowadays, Flash is no longer supported by browsers. Animation created with Flash is instead distributed as videos. Flash games are distributed as executables (.EXE files) instead of playable inside the browser.
For reference, an example of Flash anime:
Browsers stopped supporting Flash due to security reasons. It was a plugin (or add-on) that allowed browsers to play its a file format with a .SWF extension. This file format included a scripting language called ActionScript.
Both plugins and scripting are security holes.
The browser (e.g. Firefox) provides a set of commands that a plugin like Flash can use. Flash similarly provides a set of commands that a .SWF file can use. Both such sets of commands are called APIs.
A command in an API is created by a programmer with an intended way for use, but it's possible that a bug allows malicious users to exploit the command to do unintended things. If such exploit is found, then a programmer has to patch the security hole so that it can no longer be used.
Naturally, the more commands, the more functionality an API provides, the more potential security holes, and the more work it takes to find and patch them.
Flash is a plugin that can do all sorts of things, including reading and saving files in the computer (file system access), accessing the microphone, webcam, playing videos, downloading files, etc. It's given more functionality by the browser than a normal web page would have, so it's easier to exploit.
If exploited, a hacker can bypass the browser's sandbox and access an user's computer, allowing then to download a virus from anywhere on the internet and saving (installing) it on their computer. Once they can do that, they can do anything.
Flash was popular a decade ago in a era browsers didn't have a lot of functionality. Nowadays, many things that were only possible with Flash can be done with a browser API called Javascript, which doesn't need a plugin.
Javascript can't do everything Flash could, however. While even simple vector animation can be done with Javascript and .SVG, complete cartoons, minutes long, with audio, images, etc., only really make sense as video files.
Video, too, was once not supported natively by browsers, requiring plugins like Flash, but nowadays that's no longer the case.
At some point, Flash became more trouble than it was worth, and support was dropped.
Notably, Newgrounds, a website that hosted tons of Flash content, including some of the greatest Flash animation the internet has to offer, created its own Flash player to allow a more seamless experience.
Non-Japanese Anime
The term for anime that's not Japanese in Japanese is kaigai-anime 海外アニメ, "overseas anime."
Since Japan is an island (well, mostly an island), pretty much everything related to other countries is referred to as kaigai, "overseas."
As mentioned previously, anime just means animated drawings in Japanese, so kaigai-anime isn't specifically cartoons in manga style.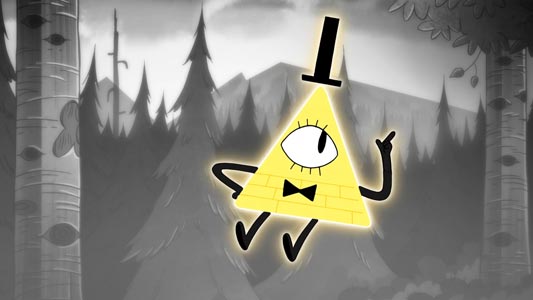 Character: Bill Cipher, ビル・サイファー
Anime: Gravity Falls (Episode 19)
Context: an anime character.
tangan
単眼
One-eyed like a cyclops.
Glossary
For reference, a glossary of anime terms.
Beware that some terms look like they're English words, but are actually Japanese words made up from English words, and which the English anime fandom loaned from the Japanese anime fandom.
See also: wasei-eigo 和製英語.