In Japanese, kabedon 壁ドン is when a guy flirts with a girl by putting his hand, arm, elbow, or even legs on a wall, or when a girl flirts with a guy, or doesn't flirt, but threatens instead, or anything like that, plus dozens of other variations. Literally, kabedon is the sound of impact, DON! ドン! on a "wall," kabe 壁. This is sometimes translated to English as "wall slam."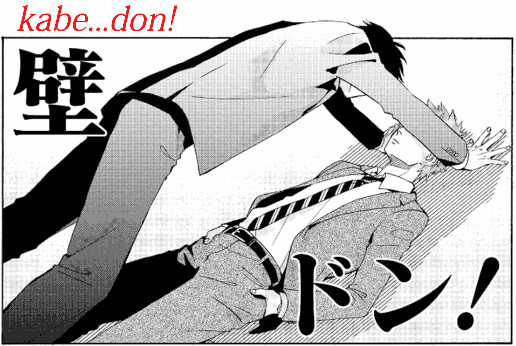 Manga: Wotaku ni Koi wa Muzukashii ヲタクに恋は難しい
Trope
As far as the trope goes, the kabedon is the weapon of choice of popular-with-girls characters. It's not limited to just manga and anime, but also to series with real people and even Real Life™. Some even consider the kabedon a romantic way to flirt.
【ドラマ黒崎くん〜 第1夜】
伝説になるであろう黒王子と白王子のW壁ドン pic.twitter.com/G82EVNyrBx

— ♥︎︎めろん♥︎︎ (@repo_kpkp) December 22, 2015
Due to its enormous popularity an recognition worldwide in fiction and reality, the kabedon is also commonly featured sarcastically in parodies, jokes, memes, and something that's probably a mix of these three things at once.
Anime: Pop Team Epic, Poputepipikku ポプテピピック (Episode 4, Collage)
On the flip side, the kabedon is also the weapon of choice of characters that are not popular with girls, specially gang members, etc. to approach whoever they lay their eyes upon in what you'd imagine they'd imagine is the manliest most badass way of approaching somebody.
As one would expect, when the guy doing the kabedon is ugly, it looks lame, and when he looks violent, it looks menacing. So whether the kabedon is effective or not has nothing to do with the kabedon itself, it depends entirely on who is using it.
Although those that swear on the technique's effectiveness also exist.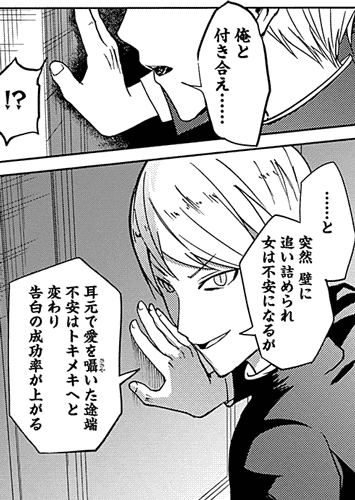 Manga: Kaguya-sama wa Kokurasetai ~Tensai-Tachi no Ren'ai Zunousen かぐや様は告らせたい~天才たちの恋愛頭脳戦~ (Chapter 6, 白銀御行は隠したい)
Context: the student council president explains the power of kabedon.
ore to
tsukiae......
俺と付き合え・・・・・・
[Go out with] me......

tsukiau 付き合う
To do an activity with someone.
To hang with.
To go out with.
To date with.

......to
・・・・・・と
[......you say something like that.]

totsuzen kabe ni
oitsumerare
突然 壁に追い詰められ
Suddenly being cornered into a wall.
onna wa fuan ni naru ga
女は不安になるが
The woman becomes uneasy but
mimimoto de ai wo sasayaita totan
耳元で愛を囁いた途端
The moment [you] whisper love close [to her] ear

mimimoto de 耳元で
At ear's base. (literally.)
Close to the ear. (adverb.)

fuan wa tokimeki e to
kawari
不安はトキメキへと変わり
Uneasiness turns into fluttering, [and]
kokuhaku no seikouritsu ga agaru
告白の成功率が上がる
The success rate of the confession increases.
Same-Gender Kabedon
It's important to reaffirm that kabedon isn't used exclusively in a flirting attempt by guys trying to get girls. It's also used in a totally not flirting way by bully characters who want to literally pin down their weak-willed victims against the wall to steal their lunch money or whatever.
Basically, if it's a guy and a girl doing it, it's flirting, and if it's two guys, it's threatening. Super simple stuff.
However, some people (fujoshi) might get mixed signals somehow and mistake an obviously threatening kabedon between two guys who hate each-other's guts with some sort of sexual-tension-powered kabedon meant to fuel their fangirling fantasies.
Likewise, you'll see that a lot of times there's some girl-on-girl kabedon going on. For some mysterious reason.
Types of Kabedon
The term kabedon is rather generic. It doesn't even need an actual wall. A vehicle, pillar, etc. also suffices for a kabedon. The point of the move is just that there's a surface and there's a DON! So it's no wonder it has happened so many times people ended up naming a number of its multiple variations.
And here they are, for reference.
(in the examples below, the "guy" is hitting on the "girl.")
Further Reading
For further reference, see this Pixiv illustration containing more moves: ❤萌えシチュ40奥義❤