In anime, sometimes characters have eyes with vertical slit pupils, reminiscent of "snake eyes." In Japanese, this is called hebime ヘビ目, also spelled hebime 蛇目, hebime 蛇眼.(dic.pixiv.net:蛇眼)
Character: Kobayashi Rindou 小林竜胆
Anime: Shokugeki no Sōma: San no Sara 食戟のソーマ 餐ノ皿 (Episode 5)
Context: Rindou with her yellow, vertical-slit pupils.
moe-sode
萌え袖
A term for overly long sleeves that cover the hands.
Sometimes, snake eyes are called "cat eyes" instead, nekome 猫目. The difference tends to be just whether the character looks more like a cat than a snake, which typically means their eyes are yellow, orange, or red-colored.
Examples
For reference, some examples of characters with snake eyes:
Evil
Typically, a character that has vertical slit pupils is evil for one reason or another.
Character: Il Palazzo, イルパラッツォ
Anime: Excel♥Saga, エクセル♥サーガ (Episode 4)
Context: the leader of the secret organization Across, planning town domination.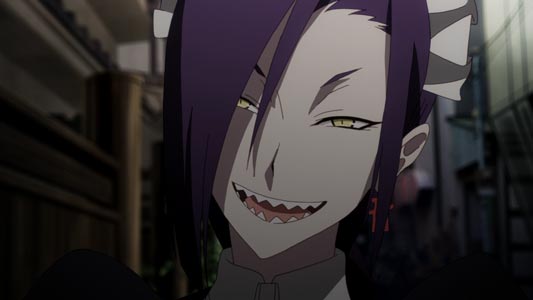 Character: Chikujouin Magane 築城院真鍳
Anime: Re:Creators, レクリエイターズ (Episode 8)
Character: Maaka Anju 真紅杏樹
Anime: Karin かりん (Episode 1, Collage)
Context: a "vampire," kyuuketsuki 吸血鬼.
Character: Lucifer, ルシフェル, Urushihara Hanzou 漆原半蔵
Anime: Hataraku Maou-sama! はたらく魔王さま! (Episode 6)
Dragon Girls
Some dragon girls have snake eyes because they're dragons, and dragons, like snakes, are reptiles.
See also: monster girls.
doragon-me
ドラゴン目
Dragon eyes.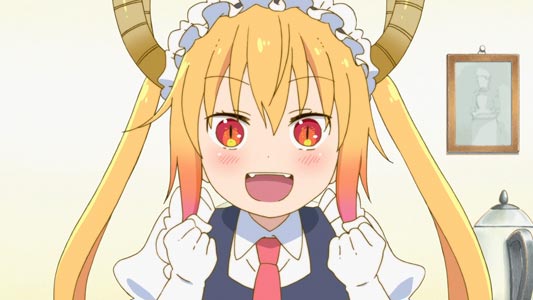 Character: Tohru トール
Anime: Kobayashi-san Chi no Maidragon, 小林さんちのメイドラゴン (Episode 1)
Character: Hanako 花子
Anime: Hataage! Kemono Michi 旗揚!!けものみち (Episode 2)