In anime, elf ears, erufu-mimi エルフ耳, are long, pointed ears, which may or may not be attached to an elf.
Elves: unnamed
Slime: Rimuru リムル
Anime: Tensei shitara Slime Datta Ken, 転生したらスライムだった件 (Episode 4)
Definition
Generally speaking, elf ears are simply long, pointed ears. They have basically nothing to do with elves, or the elf race, or anything like that.
There are many characters with pointed ears that aren't elves. They're often fairies, or demons, or basically any sort of fantasy race. Their ears are said to be "elf ears," erufu-mimi エルフ耳, in spite of them not being elves.
Likewise there might be elf characters without pointed ears.
To be honest, I've never seen one. As far as I'm concerned, in anime, all elves have pointed ears, and pointed ears are basically the only obvious thing that distinguishes elf characters from the average human character.
Some other, less obvious common features of elves are:
Tendency to live in the forest for some reason.
Uses bow and arrow as weapon.
Can use magic well.
Lives longer than humans, doesn't age as quickly.
Origin
The spread of the association of long, pointed ears with elves in manga and anime is attributed to the novel Lodoss-tou Senki ロードス島戦記, and its high-elf heroine, Deedlit ディードリット, who was designed by illustrator Izubuchi Yutaka 出渕裕.
Soejima-shi: jibun nanka no sedai dewa mou, erufu toieba Dhiidoritto, dowaafu toieba Gimu, mitai na imeeji nandesu yo.
副島氏:自分なんかの世代ではもう、エルフといえばディードリット、ドワーフといえばギム、みたいなイメージなんですよ。
Soejima: for my generation [it] is already, [if you think of] elves, [you think of] Deedlit, [and if you think of] dwarves, [you think of] Ghim, [in my impression].

~toieba
~といえば
If [you] say.
In this case, used in the format: if you say X, you say Y, if you're talking about X, you're talking about Y. Used to provide the first thing someone thinks of when they're talking about something, like elves being associated with Deedlit, and dwarves with Ghim, a dwarf character in Lodoss.

Izubuchi-shi: yoku iwareru-n-desu yo. erufu no mimi ga nagai no wa, omae no sei da tte (warai).
出渕氏:よく言われるんですよ。エルフの耳が長いのは、お前のせいだって(笑)。
Izubuchi: [I] am told [this] a lot. "Elves' ears being long is your fault."

kakko-warai
(笑)
Lol. Rofl. (internet slang.)

Source: 【『ロードス島戦記』出渕裕×『ペルソナ』副島成記:対談】「エルフの耳はなぜ長い?」次世代に受け継がれるビジュアル作りに隠された秘密を探る【新生・王道ファンタジーを求めて②】 - news.denfaminicogamer.jp, accessed 2020-05-08.
In the 1990 OVA adaptation, Deedlit's ears were animated pretty much like "donkey ears," roba no mimi ロバの耳, in the aspect that they could move upward and downward expressively.
Character: Deedlit ディードリット
Anime: Lodoss-tou Senki, ロードス島戦記 (Episodes 2, 1, 5)
The Lodoss novel was first published in 1988, and it was influenced by table-top RPGs like Dungeons & Dragons.
D&D was first published in 1974, by the way.
Despite how often elves show up in anime, they aren't actually a Japanese fantasy creature, but a western one, so it makes sense for the historical origins of the long, pointy ears to also be western.
Notably, The Lord of the Rings (Yubiwa-monogatari 指輪物語, "Ring Tale") by J.R.R. Tolkien, first published in 1954, supposedly had pointy-eared elves, or didn't, because this very important detail about elves wasn't written clearly and unambiguously in the books.
Let me clear up something: classic fantasy works said elf ears were pointy, not long. As in: they're about the same size as human ears, except elf ears are not round, they're pointy. In Lodoss, the elves' ears weren't merely pointy, they were also ridiculously long.
If you watch the movie adaptation of The Lord of the Rings, you'll see elves like Legolas having pointy ears that are nowhere as long as the donkey-sized ears of Deedlit. That's the type of ear that Lodoss popularized, not simply pointy ears in general.
In Germanic folklore, elves are human-like supernatural beings, and that's pretty much it. In typical classical art fashion, they're often depicted frolicking and prancing around in forests, swamps, and all that European kinda stuff.
There's nothing about elves that says they have pointed ears, although there are reasons for them to hang around in forests, to have supernatural abilities (magic), and to have an affinity for communicating with forest spirits and fairies.
Blunt-eared elves depicted performing the lewdest, most obscene act known to man: hand-holding.
The title of this work is "Meadow Elves" or "Fairies of the Meadow," because, historically, the English word "elf" was loosely synonymous with the French word "fairy."
In Japanese
The term for "elf ears" in Japanese is literally erufu-mimi エルフ耳.
It works in the same way as nekomimi 猫耳 means "cat ears."
Left: Shera L. Greenwood シェラ・L・グリーンウッド
Right: Rem Galeu レム・ガレウ
Anime: Isekai Maou to Shoukan Shoujo no Dorei Majutsu 異世界魔王と召喚少女の奴隷魔術 (Episode 1)
Examples
For reference, some examples of elf ears in anime:
Elf Elf Ears
Character: Fiel Nirvalen フィール・ニルヴァレン
Anime: No Game No Life, ノーゲーム・ノーライフ (Episode 8)
Dark Elf Elf Ears
An elf that is "dark-skinned," kasshoku-hada 褐色肌 is also known as a:
daaku erufu
ダークエルフ
Dark elf.
Character: Pirotessa ピロテース
Anime: Lodoss-tou Senki, ロードス島戦記 (Episode 9)
tanima hooru
谷間ホール
Cleavage "hole." (literally.)
Cleavage window. A hole in the middle of a girl's clothes designed to show cleavage.
Left: Aura Bella Fiora アウラ・ベラ・フィオーラ
Right: Mare Bello Fiore マーレ・ベロ・フィオーレ
Anime: Overlord, オーバーロード (Episode 1)
Half Elf Elf Ears
A "half elf," haafu-erufu ハーフエルフ, is a child born from an elf with a human. In other words, half-elf, half-human.
Half elf ears are half as long. That's just math.
Character: Emilia エミリア
Anime: Re:Zero kara Hajimeru Isekai Seikatsu Re:ゼロから始める異世界生活 (Episode 1)
Elf Ear Length ÷ 2
+ Human Ear Length ÷ 2
= Half Elf Ear Length.
It's worth noting that, in Japanese, "half," haafu ハーフ, is sometimes used to refer to someone who is half-Japanese, half-foreigner. This usage may be considered offensive.
Demons Elf Ears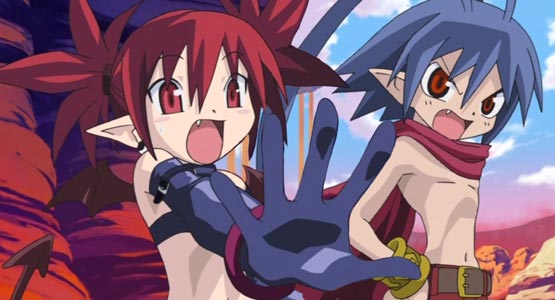 Left: Etna エトナ
Right: Laharl ラハール
Anime: Makai Senki Disgaea, 魔界戦記ディスガイア (Episode 2, Collage)
Character: unnamed
Anime: Demi-chan wa Kataritai, 亜人ちゃんは語りたい (Episode 1)
The most common type of monster girl.
sakyubasu
サキュバス
Succubus.
inma
淫魔
Lewd demon.
muma
夢魔
Dream demon.
tsubasa
翼
Wings.
shippo
尻尾
Tail.
Left (blue hair): Tsuyukusa つゆくさ
Middle (red hair): Tsutsuji つつじ
Right (yellow hair): Himawari ひまわり
Anime: Onipan! おにぱん! (Episode 1, Stitch)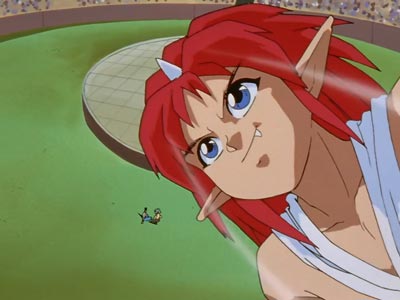 Character: Jin 陣
Anime: Yū☆Yū☆Hakusho 幽☆遊☆白書 (Episode 39)
Character: Millaarc ミラアルク
Manga: Senki Zesshou Symphogear XV, 戦姫絶唱シンフォギアXV (Episode 3)
Demon Demon Ears
The term akuma-mimi 悪魔耳, "demon ears," refers to pointed ears that are curved upwards, rather than the traditional elf ear that goes far outward.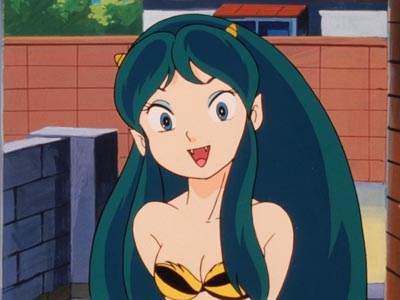 Character: Lum ラム
Anime: Urusei Yatsura うる星やつら (Episode 1, 町に石油の雨がふる)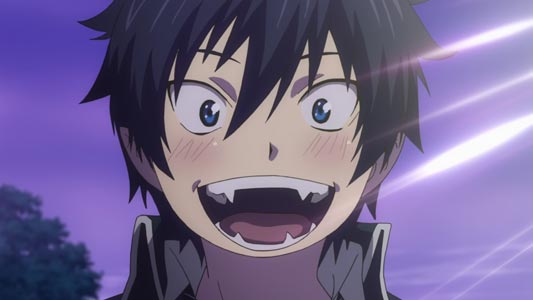 Character: Okumura Rin 奥村燐
Anime: Ao no Exorcist, 青の祓魔師 (Episode 5)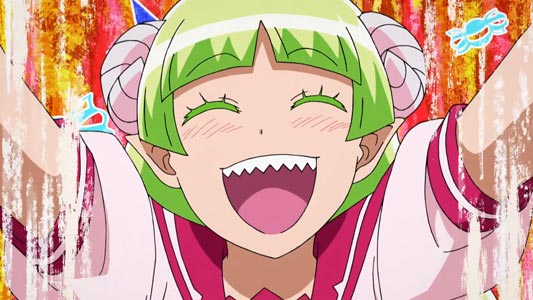 Character: Valac Clara ウァラク・クララ
Anime: Mairimashita! Iruma-kun 魔入りました!入間くん (Episode 3)
Other Elf Ears
Character: Hanako 花子
Anime: Hataage! Kemono Michi 旗揚!!けものみち (Episode 2)
Character: Aiwarn アイワーン
Anime: Star☆Twinkle Precure, スター☆トゥインクルプリキュア (Episode 16)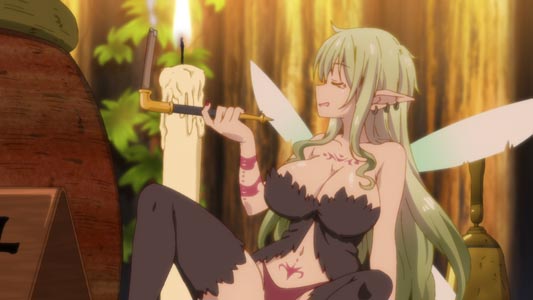 Character: Aloe アロエ
Anime: Ishuzoku Reviewers, 異種族レビュアーズ (Episode 2)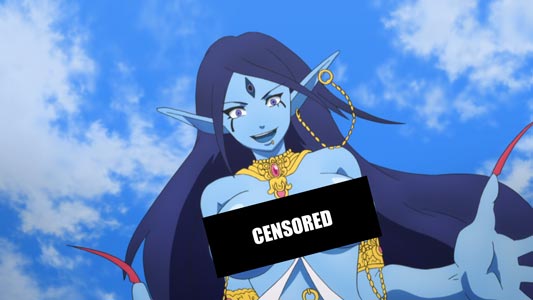 Character: Paimon パイモン
Anime: Magi: The Labyrinth of Magic, マギ (Episode 5, Censored)