In Japanese,
sekimen
赤面, meaning "red face," refers to someone's face as it's red with embarrassment or something like that. It's how you say "blushing" in Japanese.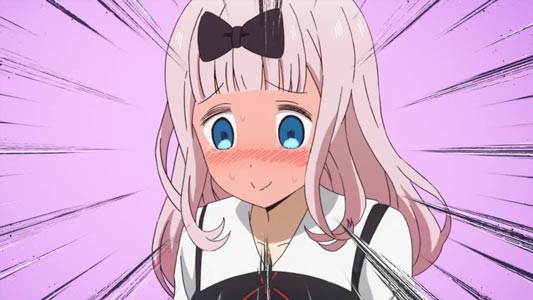 Character: Fujiwara Chika 藤原千花
Anime: Kaguya-sama wa Kokurasetai ~Tensai-Tachi no Ren'ai Zunousen かぐや様は告らせたい~天才たちの恋愛頭脳戦~ (Episode 9)
Rendering
In colorful anime the characters' faces do become red as they blush, but in black and white manga that's not possible, so diagonal lines are used instead to represent blushing.
In pure text,
three slashes
are used to represent blushing. This sometimes happen in text balloons when the character isn't visible in the panel.
minaide///
見ないで///
Don't look [at me]. *blushing*

surasshu
スラッシュ
A slash (/).
Vocabulary
The word
aka
赤 means the color "red," while
seki
せき is the
on'yomi of the kanji
. The
men
面
morpheme
can mean either the "surface" or "front side" of something or someone's "face."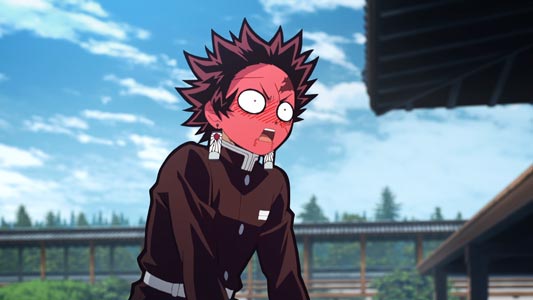 Character: Kamado Tanjirou 竈門炭治郎
Anime: Kimetsu no Yaiba 鬼滅の刃 (Episode 23)
makka
真っ赤
"True red." A very strong red color.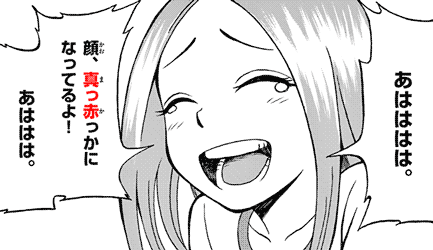 Manga: Karakai Jouzu no Takagi-san からかい上手の高木さん (Chapter 2, プール)
Context: Takagi 高木 sees the outcome of her teasing.
a-ha-ha-ha-ha.
あはははは。
*laughs.*
kao, makka-kka ni
natteru yo!
顔、真っ赤っかになってるよ!
[Your] face, [it's] turning really red!
a-ha-ha-ha.
あははは。
*more laughs.*
There are various ways to say "to blush" in Japanese. For example:
sekimen suru
赤面する
To "red-face." (as a suru-verb.)
To become red-faced. To blush.
kouchou suru
紅潮する
To blush. To redden.

kao wo kouchou saseru
紅潮させる
To redden [one's] face.
To blush.

kao ga akaku naru
顔が赤くなる
[Their] face becomes red.
[They] blush.
hoo ga akaku somaru
頬が赤く染まる
[Their] cheeks dye red. [Their] cheeks become red.
[They] blush.
hazukashisa de hoo wo akaku someru
恥ずかしさで頬を赤く染める
To dye [one's] cheeks red with embarrassment.
To blush with embarrassment.
For completeness, the makeup term for "blush" would be:
hoobeni
頬紅
Rouge. Blush. Cosmetic product used for coloring the cheeks.
Literally "cheek-red" in Japanese.

The word "rouge" means "red" in French.
kuchibeni
口紅
Lipstick.
Literally "mouth-red."
There are various reasons for someone's face to turn red. Embarrassment, shame, bashfulness are pretty common ones.
hazukashii
恥ずかしい
Embarrassing.

hazui
恥ずい
(slang, abbreviation.)
shinu hodo hazuhashii
死ぬほど恥ずかしい
Embarrassing enough to die.
hazukashikute shineru
恥ずかしくて死ねる
So embarrassing that [I] could die.

haji
恥
Shame. Dishonor.

haji-shirazu
恥知らず
Not-knowing shame. Shameless.
shuuchishin
羞恥心
Shame. Shyness.

tereru
照れる
To be shy. To be bashful.

tereya-san
照れ屋さん
Someone who is shy.
Another common reason would be from falling love.
dokidoki suru
ドキドキする
(For one's heart) to beat.
To feel one's heart beat faster.
mune ga kyun to suru
胸がキュンとする
(To feel one's) chest tighten.
For one's heart to skip a beat. (when they fall in love, for example.)

Manga: Karakai Jouzu no Takagi-san からかい上手の高木さん (Chapter 1, 消しゴム)
Other strong emotions can also cause blushing, like excitement.
wakuwaku
ワクワク
*excited*
koufun
興奮
Excitement.
furueru
震える
To tremble.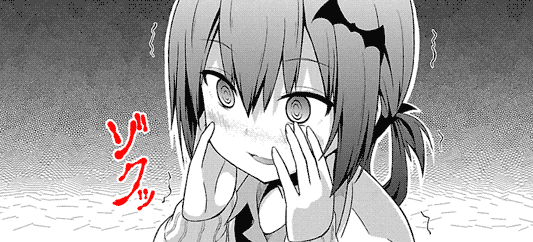 Manga: Gabriel DropOut, ガヴリールドロップアウト (Chapter 3)
Context: Kurumizawa Satanichia McDowell 胡桃沢=サタニキア=マクドウェル feels goosebumps from imagining herself doing evil things.
zoku'
ゾクッ
*tremble*
Lastly, it could be the character is just sick.
netsu
熱
Warmth.
Fever.
kaze
風
Wind.
kaze
風邪
Cold. Influenza.

samui
寒い
Cold. (weather, temperature.)
tsumetai
冷たい
Cold. (to the touch.)
Heartless.

kaze wo hiku
風邪を引く
[To catch] a cold. (literally "to pull a cold.")