What does chuunibyou mean in Japanese?
Literally, chuunibyou 中二病 translates to "middle school second-year syndrome," as in a disease someone around 13–14 years old would get. It's also romanized chūnibyō.
Sometimes, an anime character is said to have chuunibyou, to be a chuuni 厨ニ, but what is chuunibyou? Is it even a real disease?
Not really. The term chuunibyou 中二病 refers to thinking, acting, or talking like you live in a fantasy game, or in the world of a manga, with magic, secret organizations, super powers, and so on. Something which is extremely embarrassing and cringe for anyone older than 13 years old, and that you'll absolutely regret doing in front of others later in your life.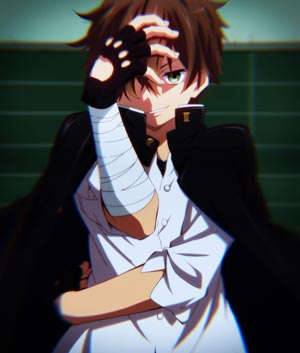 Character: Dark Flame Master
Anime: Chuunibyou demo Koi ga Shitai! 中二病でも恋がしたい! (Episode 1)
The Meaning of Chuunbyou in Japanese
The word chuuni 中二 is an abbreviation of a school year:
chuugaku ninen
中学二年
Middle school second year. (Japan.)
Eight grade. (U.S.)
And byou 病 means "sickness," or "syndrome." Together, they form chuunibyou 中二病, translating to "middle school second-year syndrome," or "eight grade syndrome."
Syndrome Symptoms
The term chuunibyou doesn't refer to an actual sickness acknowledged by medical experts. Instead, it's a slang that refers to a certain type of person that tries really hard to be different from others, ending looking weird or pretentious.
Basically, people, in general, are very boring, and if you're a kid in middle school that doesn't know that, you'll end up feeling like you're less special than others, even though you're pretty much like everybody else.
Consequently, you'll do things to boost your ego, to make yourself appear more special than you really are, and more special than your peers, because you're having an identity crisis through puberty, and not being special doesn't make sense for you.
To have a better idea, this includes things like:
Listening to foreign bands.

Listening to obscure bands because they aren't popular.

Claiming you've been listening to a band before it was popular.

Being an underachiever, but claiming "I can do it if I really tried."

I have yet to use 100% of my power.

Drinking bitter coffee.

Because, in Japan, it's thought that only adults like bitter coffee, and you want to appear to be more mature than you actually are.
In other words, anything from acting like a delinquent to being involved in subculture for the sake of appearing different is considered chuunibyou.
In anime, chuunibyou characters often have "delusions," mousou 妄想, that they're a fantasy character, because fantasy characters are all special and unique, with cool, distinct abilities and names, so if you want to be special, you want to be a fantasy character.
It's pretty normal for kids to play around having imaginary fights where someone pretends to be the hero, someone else pretend to be the bad guy, and then they just imagine themselves casting magic, swing swords, and so on.
The kind of stuff they've seen in games, anime, and shounen manga, like ninjutsu. But do note that chuunibyou characters aren't necessarily otaku オタク, they just have been influenced by manga.
The problem is: this isn't LARP or D&D. It's embarrassing to act like this in public. The older you are, the more embarrassing it is, so most kids normally stop doing this stuff by the time they reach high-school.
If you do something embarrassing in your first year of high school, everyone is going to see it, and remember it through all three years of high school, so this would be a pretty good time to stop doing embarrassing things.
If you don't stop here, everybody will know you have chuunibyou, middle school syndrome.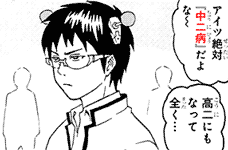 Manga: Saiki Kusuo no Psi Nan 斉木楠雄のΨ難 (Chapter 3, 漆黒の翼こと海藤瞬)
Context: Saiki talks about the token chuunibyou character.
kou-ni ni mo natte, mattaku
高二にもなって 全く・・・
[Even] after becoming a high school second year [student], [good grief]...
Examples of Chuunibyou
Examples of things chuunibyou characters do include:
Pretending that you can cast magic.

Pretending you've been cursed by something.

Using sticks, umbrellas, or other long, narrow objects as if they were swords.
Pretending that there's an evil, global, organization, called "The Organization," conspiring into things everywhere.

Pretending that you're part of a good, global, cool-named organization fighting the evil organization.

Covering your arms in bandages, even though you haven't broke a single bone.

Claiming those bandages are a seal, which contains your true power, which may be an evil power, or a demon arm, or something like that.

Using an eye-patch, even though your eye is perfectly fine.

Claiming that eye-patch is a seal, which contains your magic eye.

Using colored contacts to change the color of your eye, because it's a magic eye.

Claiming to be a reincarnation.

Claiming someone else was a friend you fought together with, or a foe you fought against, in a previous life.

Having a pretentious naming sense.

Using foreign words, katakana words, English words, and so on to name your imaginary skills.
Using complicated kanji instead of normal, everyday kanji, which appears pompous.
Using gikun 義訓 so you can do both things at the same time.