In anime, hand holding is an obscene act done by two impure, perverted characters by placing the palm of one's hand against that of another's. "Hand holding" in Japanese is called te-tsunagi 手つなぎ.
Left: Narumi Takayuki 鳴海孝之
Right: Suzumiya Haruka 涼宮遙
Anime: Kimi ga Nozomu Eien 君が望む永遠 (Episode 2, Cropped, Censored)
Context: a boy and a girl hold hands in the second episode.
WARNING: this article contains obscene imagery. Viewer discretion advised.
Definition
In the anime fandom, hand holding is regarded as the single most hardcore act done by couples, the height of degeneracy. It really makes one wonder: what is anime teaching our children?
Anime: Saiki Kusuo no Ψ-nan 2 斉木楠雄のΨ難 2 (Episode 11, Censored)
Context: Kaidou Shun 海藤瞬, red-faced, says a thing that (depraved) couples do when dating.
hada to hada ga fure-au... sono... tee

φ

tsunagu-n-da yo!! iwasen-na!
肌と肌が触れ合う・・・その・・・手ぇ繋ぐんだよ!!言わせんな!
When skin and skin touch... [you know]... to hold hands!! Don't make [me] say it!

fureru
触れる
To touch. To make contact, deliberately or by accident.
au
合う
To meet. To join together.
fure-au
触れ合う
For two things to touch each other, in this case, for one's skin to touch someone else's skin and vice-versa.

iwasen-na - contraction of iwaseru na.
iwaseru
言わせる
To make [someone] say [something].

Left: Asumodeus Viole, アスモデウスヴィオレ
Right: Asumodeus Lily, アスモデウスヴィオレ
Anime: Mairimashita! Iruma-kun 魔入りました!入間くん (Season 2) (Episode 12, Censored)
Context: demonic children doing an akanbee あかんべえ while holding hands.
As with any disturbing fetish, it has its own subreddit, r/handholding, whose rules say: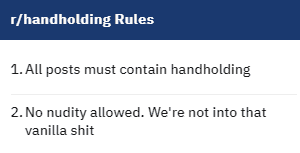 Fans of hand holding may try to justify themselves by saying things like "that's just a meme" and "there are worse things in anime." Please don't believe them. There are no worse things in anime.
Although the typical case of hand holding is heterosexual, there's also homosexual hand holding.
Left: Moritani Hiyori 森谷ヒヨリ
Right: Kotoura Haruka 琴浦春香
Anime: Kotoura-san 琴浦さん (Episode 5, Censored)
Left: Usui Kenta 雨水健太
Right: Maaka Ren 真紅煉
Anime: Karin かりん (Episode 12, Censored)
Holding one's own hand isn't lewd. I'm sure there's a very good, logical reason for this, I just haven't found it yet.
Character: Ikari Gendō 碇ゲンドウ
Anime: Neon Genesis Evangelion, Shinseiki Evangerion 新世紀エヴァンゲリオン THE END OF EVANGELION (Movie)
Context: a man touching himself.
Although I'm not aware of any examples of this, holding hands with one's clone however would be lewd as that counts as self-cest.
Types
For reference, terms for types of hand holding.