In Japanese, guro グロ, meaning literally "grotesque," katakanized gurotesuku グロテスク, refers to a genre of body horror, depicting gore, death, and other disturbing imagery. In English, guro often refers to this as a genre of drawn pornography (hentai), although shounen anime, targeted at teenagers, sometimes feature guro scenes.
This can range from imagery depicting organs, guts, spilled out from a character cut apart, slashed, crushed, pierced, blood splattered around, physical deformities, fleshy monstrosities, gross infections, executions, etc. In summary, it's all pretty gross, makes you feel bad, it's kimochi-warui 気持ち悪い, and for the faint of heart can be pretty traumatized overall.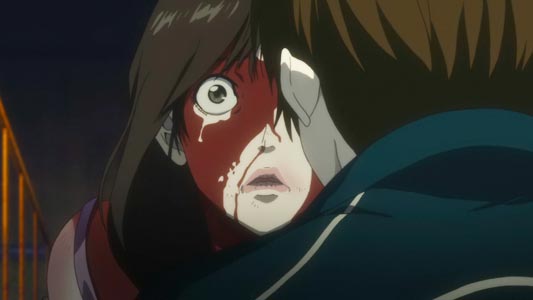 Anime: Psycho-Pass, Saiko-Pasu サイコパス (Episode 1)
Context: in Psycho-Pass, a sci-fi utopia is created by monitoring everybody's mental health as likelihood to commit crime. A gun called a "dominator" is used to subdue individuals with a high criminal coefficient. If hit by its bullet, the person explodes from inside, splattering blood and guts everywhere. The character above was next to someone who was hit. She was left traumatized, raising her criminal coefficient.
Not to be confused with kuro 黒, "black," affected by rendaku 連濁, e.g. gangugo ガングロ.
WARNING: this article includes examples of guro imagery from anime.
Definition
Fundamentally, guro is body horror: it's a genre depicting horrible things happening to someone's body, which often means gore, or something gruesome, but can also refer to having a grotesque physical appearance, like having a deformity, and in some cases, it's not even a deformity.
In general, guro is disturbing imagery that makes you feel grossed out, perturbed. Normally, you wouldn't want to see something like this, as its whole point is that it's not pleasant to look at.
Of course, what's perturbing varies from person to person, so it's hard to define exactly: some people can't bear to watch horror movies like Saw, others think its gore scenes are funny.
The following are generally considered guro:
Mutilation.
Exposed injuries, organs.
Heavy bleeding.
Loss of limbs, eyes, etc.
Infections. Swollen body parts, specially if they change to a grotesque color.
Infested bodies. Parasites, larvae, etc.
Decaying, rotting corpses, zombies.
Animals, monsters, zombies, etc. eating people alive.
Character> Hyakkimaru 百鬼丸
Anime: Dororo どろろ (Episode 13, OP, Collage)
Context: in the second OP of Dororo, Hyakkimaru is depicted being eaten alive by insects.
Pretty much anything related to heavy bodily injury, visible diseases, and so on. Methods of execution are also often considered guro:
Hanging.
Decapitation.
Impalement.
Burning alive.
Drowning.
Sometimes executions feature some rather obscure torture devices. For reference, what they're called:
denki isu
電気椅子
Electric chair.

A chair in which a person is strapped, electrodes placed on their head.
When the electrodes electrocute, it kills the person.
girochin
ギロチン
Guillotine.


A wooden board with a hole through which goes one person's head, and a metal blade hanging above their necks. A less sophisticated version has an execution with an axe instead.
When the blade goes down, it kills the person.

dantoudai
断頭台
"Beheading platform."

aian meiden
アイアン・メイデン
Iron maiden.

A container with space for one person, with doors fitted with spikes.
When the doors close, it kills the person.

tetsu no shojo
鉄の処女
"The virgin of metal."

fararisu no oushi
ファラリスの雄牛
Brazen bull. ("Phalaris' bull.")

A metal-made bull-shaped container inside of which goes one person.
When the bull is placed over a fire, it kills the person.
Deformations can be considered guro, specially when in anime where characters may be turned into inhuman shapes by magical means.
In Made in Abyss, one character has been extremely deformed for plot-related reasons.
In Jujutsu Kaisen 呪術廻戦, Mahito 真人 is a curse with the ability to manipulate souls like clay, which affect the shape of the human body. He uses this ability to turn people into grotesque creatures and uses them as expendable pawns.
Some character designs are unsettling to look at, even if they aren't technically deformed. For example, characters that have just one eye, like a cyclops, may appear disturbing, and as such count as guro.
If a character has a bunch of holes on his body, even if they aren't bleeding or anything, that might elicit trypophobia, fear of holes, which is extremely disturbing, and may also count as guro.
Not everything that's disturbing counts as guro. In general, guro only applies to body horror.
The first two minutes of Imouto Sae Ireba ii. 妹さえいればいい。 are all sorts of disturbing, but not the guro sort.
Regardless, guro is often lumped together with other disturbing imagery that's not strictly body horror, such as vomit and defecation.
An interesting case are robots. Although robots can have human-like bodies, they don't bleed and don't have organs, so people are normally okay with them suffering injuries that would render a normal person pretty dead.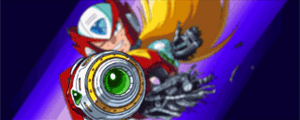 Character: Zero ゼロ
Game: Megaman X5, Rockman X5, ロックマンX5
Context: if Zero had flesh, this would be a lot more disturbing.
It would take something like the anime movie Ghost in the Shell to break a robot's body grotesquely enough for people to say: "yup. That's disturbing."
This isn't restricted to robots. There are other sort of characters that don't bleed, but break, and when they break, it isn't as disturbing as it would be if they had flesh, although it can be its own sort of disturbing.
Left: Goshenite ゴーシェナイト
Right: Morganite モルガナイト
Anime: Land of the Lustrous (2017), Houseki no Kuni 宝石の国 (Episode 1, Collage)
Notable Examples
In anime, guro scenes typically happen you have some seriously messed up stuff going on, and the point is often to emphasize how messed up and inhuman the stuff is. Series that feature such scenes are normally called mature—or edgy, depending on whom you ask. An example:
Character: Neferpitou ネフェルピトー
Anime: Hunter x Hunter (2011) (Episode 84, Stitch)
Context: an infamous "guro scene," guro shiin グロシーン, from an anime targeted at kids.
By shoving two needles up into his exposed brain and forcing him to repeat his memories.
As you can see, this scene isn't only dark in the sense it's grotesque, it's also dark in color because there's literally no way you'd show this stuff on TV without some massive censoring.
The top of his head was never shown. But disturbing brain-stirring sound effects were played.
Many people were left traumatized by this, probably.
The following is a list of series that feature guro:
Spoiler warning: do not Google the examples below, you may end up spoiling yourself.
Psycho Pass features a weapon that explodes people from inside, splattering their guts on anyone nearby and possibly traumatizing them.
Devilman features a lot of gore, death, and other horrible things.
Akira アキラ features characters turning into disturbing blobs of meat.
Baccano features a character dancing over their victims' pool of blood, plus a whole lot of other bad stuff.
Kurozuka 黒塚 features a decapitated head, to begin with.
Danganronpa ダンガンロンパ features brainwashing through shoving needles into somebody's cranium.

Where have I seen this before? Apparently it's called a:
robotomii shujutsu
ロボトミー手術
Lobotomy surgery.
Although -tomy implies there's some cutting and what we see in anime is more like piercing. I don't know about medicine enough to figure this out.

Attack on Titan features human-eating titans.
Blood-C features human kebab.
Made in Abyss features the best opportunity to mute the audio you'll ever get. It also features an elevator.
Shinsekai Yori 新世界より features disturbances on a conceptual level as well as the physical one.
Another features an umbrella.
Dororo どろろ features a baby.
Splatstick Comedy
Sometimes, guro is a central part of a comedy series—which sounds pretty messed up if you think about it, so let's not think about it—in which it normally happens as an over the top way to punish characters for doing something stupid.
This is a mix of two genres: slapstick comedy, in which characters sometimes get physically hit as punishment for being stupid, and splatter horror, which has ridiculous amounts of gore and copious amounts of blood. Combined together, they form the splatstick genre!(wiktionary.org)
In anime, to make brutally killing people more of a comedy, normally you'll have a character that's immortal, or people that don't die when they're killed, for some reason, or maybe just background characters that you don't really care if they die or not.
For reference, some examples of splatistick anime:
Character: Kusakabe Sakura 草壁桜
Anime: Bokusatsu Tenshi Dokuro-chan 撲殺天使ドクロちゃん (Episode 1)
Context: Sakura gets struck by the Excalibolg, エスカリボルグ, dying almost instantly (he turns into a fountain of blood and walks a few steps before falling to the ground), just one minute after the anime starts.

The series is about an "angel," tenshi 天使, called Mitsukai Dokuro 三塚井ドクロ, who wields the Excalibolg.
She users her angelic powers to bring Sakura back to life every time she kills him, and she kills him a lot.

pipiru piru piru pipiru pi~
ぴぴるぴるぴるぴぴるぴ~
*angelic spell*

The word bokusatsu 撲殺 in the title of the anime is formed by the first person pronoun boku 僕 and the on'yomi reading of the kanji for "to kill," korosu 殺す.
The whole title means something like "The me-killing angel Dokuro-chan," as if Sakura is saying that "she kills me."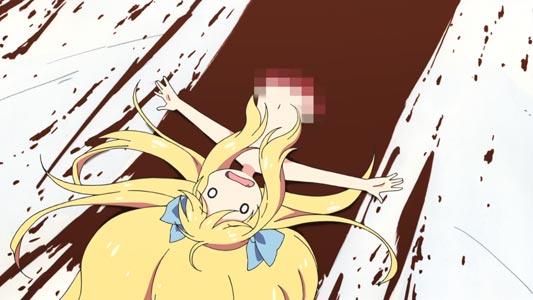 Character: Jashin-chan 邪神ちゃん
Anime: Jashin-chan Dropkick, 邪神ちゃんドロップキック (Episode 12)
Context: Jashin-chan, who is an immortal demon, often gets brutalized for doing evil things.
mozaiku
モザイク
Mosaic. (pixelated censorship method.)
In anime, not all blood is gore, so not all blood in comedy is splatstick, or guro. In particular, it's a trope for characters to get a nosebleed when they're excited, and some series just make it so very over the top it looks like a murder scene.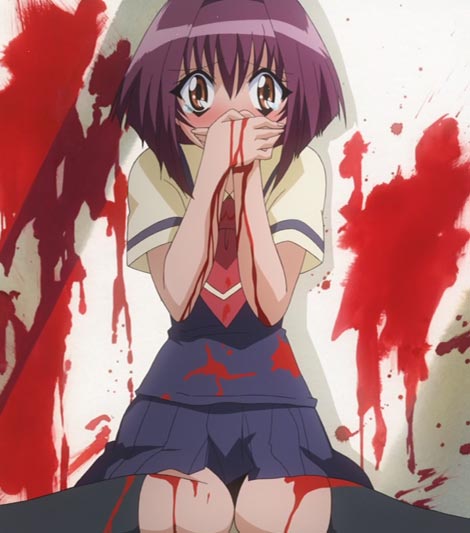 Character: Maaka Karin 真紅果林
Anime: Karin かりん (Episode 1)
Context: a girl has an embarrassing nosebleed.
In English
In English, guro is generally associated with drawn pornography featuring gore and other disturbing body horror imagery, specially in anime communities. Simply put:
guro in Japanese: all sorts of body horror, including pornography.
guro in the English anime fandom: only the pornography.
グロい
In Japanese, guroi グロい is something "grotesque," or rather, "guro-esque." It's a neologism: a word created by suffixing the ~i ~い copula to the noun guro, turning it into an i-adjective. Since guro typically refers to body horror, guroi also tends to be body-related: e.g. a flesh-related infection is guroi.
エログロ
The term eroguro エログロ is refers to erotic guro imagery, in other words, a genre that puts together sex and body horror into some sort of unholy, cursed mixture. It's a Japanese portmanteau of the English words "erotic," erothikku エロティック, and "grotesque," gurotesuku グロテスク.
How ero and guro mix together varies, specially when you consider that in anime anything can be drawn cutely or horrifyingly if the author wills it.
For example: monsters. Monsters are monstrosities and monstrosities are monstrous. Since monsters are made out of flesh, they're likely to be guroi, specially if they're drawn with fleshy colors, flesh pulsating with a live heart beat, dripping fleshy bodily fluids like saliva, and so on.
In anime, even eldritch abominations like the Cthulhu can be drawn as a cute anime girls. There's an entire genre, called "monster girls," monsutaa musume モンスター娘, dedicated to turning monsters into anime girls.
Most of these characters appear cute in spite of having monstrous origins, but a few series make an attempt into drawing more horrifying, guro-some versions of monster girls.
In Overlord, there are many monsters girls that transform into grotesque things, things with teeth, but are otherwise drawn as cute, sexy, or erotic girls.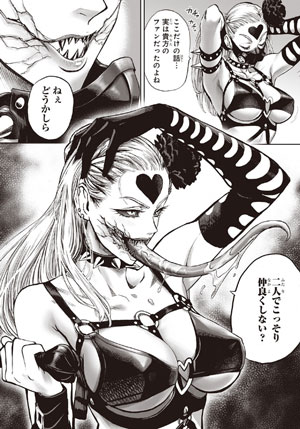 Manga: One Punch Man, Wanpanman ワンパンマン (Chapter 103)
Context: Do-S ドS, who has the design of a dominatrix, removes her mask, showing her monstrous mouth. An example of eroguro.

Her name means "sadist."
See also: do-S ドS.

koko dake no hanashi... jitsu wa anata no fan datta no yo ne
ここだけの話・・・実は貴方のファンだったのよね
A story of here only... actually [I] was your fan. (literally.)
Let's keep this between us... actually [I] was your fan.
nee doukashira
ねぇどうかしら
[What do you think?]
futari de kossori nakayoku shinai?
二人でこっそり仲良くしない?
How about we get in good terms together?

shinai
しない
To not do. (sometimes used to ask if someone is okay with doing something.)
nakayoku suru
仲良くする
To make peace. To become in good terms.
To have sex. (euphemism, see: naka ga ii 中がいい.)
Besides this, another obvious answer for eroguro is if nudity is mixed with gore.
This may occur due to sex and violence being mixed together. In this case, we're talking about a genre called ryona リョナ.
Female (and male) characters being harmed physically (or psychologically) is ryona, while body horror is guro. If harm leads to gore, then it's both things, but there is ryona that isn't guro, and guro that isn't ryona.
In in a fight a character cuts out the limbs of another character, that's ryona and guro.
If it's just an amputee character chilling around, not fighting or anything, then it's not ryona, although it can be considered guro.

See also: the movie 300, in which Xerxes has a double amputee concubine, disturbing on multiple levels.
Lastly, another eroguro scenario is if a character is having sex with something (or someone) grotesque, guroi.
The famous example is of a an old painting of a woman having intercourse with an octopus. Today, drawn pornography involving tentacles of octopuses and other creatures is common, so there's again the question if it counts as eroguro if we're talking about some cute tentacle monster instead.
Character: Facehugger
Movie: Alien
Context: a facehugger is a monster that impregnates lays eggs into people by hugging them in the face.
There are eroguro anime, and some of them are even in the ecchi genre.
Character: Niki Toshimi 二木敏美
Anime: 学園黙示録 HIGHSCHOOL OF THE DEAD (Episode 1, Stitch, Cropped)
Context: a girl being eaten alive by zombies.

This is the worst panty shot I have ever seen in anime.
I actually laughed out loud when I saw this because of how ridiculously bad it was.
This is worse than Eiken エイケン.
There's a large-breasted teacher in this series, and every time she walks she makes a "boing" sound effect. This is an anime about zombies!! What am I even watching...
エロ・グロ・ナンセンス
The phrase "ero guro nonsense," ero guro nansensu エロ・グロ・ナンセンス, refers to trends around the end of the Taishou 大正 era (around 1926), that saw a rise of bizarre fiction featuring erotic, grotesque, and nonsensical (absurd, stupid) works.
One famous author that participated in this trend is Edogawa Ranpo 江戸川乱歩, and there's actually an anime that adapts some of his works.
In Ranpo Kitan 乱歩奇譚 Game of Laplace, the first episode adapts the human chair, featuring chairs, actual furniture, made out of human corpses.
R-18G
On Pixiv, R-18G, or R18G, means an illustration contains guro. From its guidelines page:(pixiv.net)
[R-18G]: Violent scenes, ideas, and imitative expressions that are to be considered highly dangerous or shocking.
* In particular, works that include detailed depictions of lacerations and internal organs of both human and animal bodies, and works that depict violence such as torture, should be marked "R-18G".
In Japanese, R-18 means "rated 18," in the sense of restricted to adults, older than 18. The G is specific to Pixiv. Both R-18 and R-18G are used as tags on pixiv, but may appear on other websites, like Twitter. Another tag is R-15G, which is presumably a lesser shocking variant.
グロ注意
The phrase guro chuui グロ注意 means "guro warning," used to alert something contains guro, and you should think twice before proceeding.