In anime, ryona リョナ typically refers to scenarios where a female character is defeated in a fight, getting beaten, captured, or otherwise harmed physically or psychologically in one way or another. It originates in female game characters' moans of agony sounding similar to moans of sexual pleasure, as in Resident Evil, Tomb Raider, and so on. Nowadays, ryona is a genre for works that focus on violence, too.
WARNING: this article contains images featuring violence, blood, and bruises. It's for informative purposes only. The author doesn't condone violence against women, men, asexual sentient minerals, etc.
Anime: Ninja Slayer From Animation, ンジャスレイヤー フロムアニメイシヨン (Episode 3)
Definition
Basically, ryona is a sort of violent pornography, except that the term is used to refer to all sorts of scenarios where characters get beaten, including such scenes found in anime made for general audiences.
Usually, you have the heroes and the bad guys, and if the series is violent enough, the bad guys will beat up someone, capture someone, maybe interrogate them with torture, lock them up in a dungeon, brainwash them, brutally murder them, or something like that.
When that happens, that's called ryona.(dic.pixiv.net)
More specifically, when that happens with a female character, with a heroine, that's called ryona.
In fact, it doesn't really matter if the girl is a heroine or a villain, if she gets beaten up, it's ryona.
Furthermore, there isn't really a need for there to be heroes and bad guys. It could be just bad guys and victims, e.g. bullying can count as ryona, domestic abuse can count as ryona, all sorts of bad stuff can count as ryona.
It boils down to: there's a girl, she is harmed, it's ryona.
Needless to say, this is somebody's fetish, which brings the question of whether scenes involving violence against female characters are pandering some fringe fetishism or an unavoidable consequence of having violence in a series.
"This is confusing! Is it sexist to hit you? Is it more sexist to not hit you? I mean, the line gets real *cocks pistol* blurry!" —Movie: Deadpool (2016).
It's not really possible to tell whether a series is deliberately trying to include a ryona scene, or it simply has scenes that fit the definition of ryona.
It's worth noting that ryona is an anime slang. It doesn't mean "violence" in Japanese, which would be bouryoku 暴力.
Origin
The origin of the term ryona is the internet, specially, the Japanese board 2ch, which is kind of like 4chan, but in Japanese.(鳥山仁 & 九瀬足波, 2013:54, as cited in ja.wikipedia.org)
In this board, there was once a game-related thread entitled "kyaa" moeru himei no geemu "an'" 【きゃあっ】萌える悲鳴のゲーム【あんっ】, meaning a scream, kyah!, followed by the phrase "games with screams you like," see moe 萌え for the verb moeru, and ending with a moan, "ahn!"
NSFW (adult) link: 【きゃあっ】萌える悲鳴のゲーム【あんっ】., accessed 2019-03-27.
In this thread, posted in 2003, users talked about games where the voice actors, the characters screamed in pain and discomfort, and it might have sounded like moans of pleasure instead.
Then the 652th post, posted in 2003-08-20, drops this bomb:
バイオやRPGなどで喘ぎ声をあげながら死んでいく光景で
自慰する行為を猟奇オナニーと命名する
baio ya RPG nado de aegigoe wo agenagara shindeiku koukei de
jii suru koui wo ryouki onanii to meimei suru
"[I] name the act of masturbating to scenes of [characters] dying while gasping in RPG and Resident Evil, etc. 'jacking off seeking the bizarre.'"
(yes, seriously, someone said this.)
Note: baio バイオ is short for baiohazaado バイオハザード, the Japanese name for Resident Evil. This "seeking the bizarre" thing, ryouki, is about having attraction for abnormal things. In this case, the post meant that masturbating to horror games is abnormal, not that the games they were masturbating to contained anything abnormal.
The next post, 653, says this ryouki onanii is a bit too dark. 654 says that's a given since you're masturbating to someone dying. Asking if the "final answer" is going to be that masturbating to screams is himei onanii and to characters dying ryouki onanii.
657 decides to abbreviate the term that was created just 5 posts before, saying ryonanii リョナニー should be the abbreviation of ryouki onanii.
Since onanii suru オナニーする means "to masturbate," then "to masturbate to [characters] dying" would be ryonanii suru リョナニーする, I guess, but, instead, it was made into a verb through a ~ru ~る suffix: ryonaru リョナる. So ryonatteru リョナってる would be a conjugation meaning "ryona'ing" or something like that.
Finally, people started saying just ryona リョナ as a noun. And, later, it became a genre.
Degeneracy aside, many gamers agree: the moaning of female characters in games can be a bit misleading.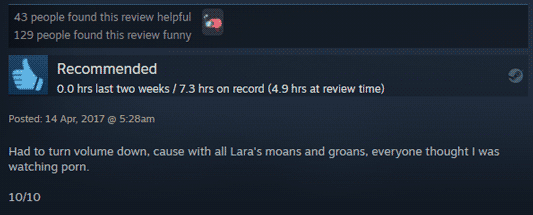 Context: a review of Tomb Raider (2013).
ryonaraa リョナラー
Someone who likes ryona is called a ryonaraa リョナラー, "ryonarer," in Japanese.
This is similar to how someone who likes "furry art," kemono ケモノ, is called a kemonaa ケモナー, "kemoner," a "furry."
Surprisingly, not only does such term exist, but it seems there are enough people into this stuff to create their own convention: the Ryonaket, ryonaketto りょなけっと.
A ryonaraa isn't the same thing a mere sadist, do-S ドS. It's easy to assume if you like scenes with guys beating girls, you're a guy self-inserting into the assailant, but there are also girls self-inserting as the victim.
Autassassinophilia.
Arousal to the risk of being killed.
There are are guys self-inserting into the guy beaten by girls in gyaku-ryona, after all, yandere ヤンデレ is a thing, and there are fujoshi liking gyaku-ryona with guys beating other guys, fueling their BL shipping fantasies.