In Japanese, BL is a genre of gay fiction, specially manga, anime, and doujinshi 同人誌 that focus on a gay romantic or sexual relationship and targets a female audience (e.g. shoujo 少女), as opposed to bara 薔薇, that targets a male, gay audience. An erotic, plot-less sub-genre is yaoi やおい. Rarely, it means "to be gay" instead. BL is an acronym standing for "Boys' Love," booizu rabu ボーイズラブ. It's pronounced bii-eru びーえる.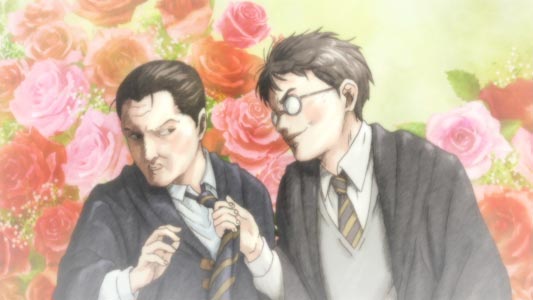 Left: Neville Longbottom
Right: Harry Potter
Anime: Asobi Asobase あそびあそばせ (Episode 4)
Definition
In the narrow sense, BL is a genre that focuses on gay romance. You'll have a male protagonist, and another male protagonist, and they're in gay love with each other. That's BL.
Although BL is an abbreviation of "Boys' Love," the term is a Japanese word made from an English phrase, a wasei-eigo 和製英語. This means that nobody calls BL "Boys' Love" in America. In particular, "boy" implies young characters, but there isn't any actual age restriction in this genre.
The medium also doesn't matter. There is:
BL manga
BL漫画
BL comics.
BL anime
BLアニメ
BL animated cartoons.
BL doujinshi
BL同人誌
BL indie comics, fanzines.
BL geemu
BLゲーム
BL games.
BL shousetsu
BL小説
BL stories. BL novels.
And so on.
Head: Jack Barbarossa Bancoran ジャック・バルバロッサ・バンコラン
Anime: Patalliro!, パタリロ! (Episode 4)
Context: a BL anime, featuring a gay:
hizamakura
膝枕
Lap pillow.
Typically, BL targets a female, heterosexual audience, not a male, homosexual one.
josei-muke
女性向け
Targeted at women.


BL is typically labelled as this.
You have girls who, being heterosexual, like "hot guys," ikemen イケメン, or "beautiful boys," bishounen 美少年, and the more hot guys the merrier.
If you have one female protagonist surrounded by hot guys, that's a reverse-harem, and such work targets a female audience.
Ouran High School Host Club, Ouran Koukou Host-bu 桜蘭高校ホスト部刃, was serialized in LaLa, a shoujo magazine, which means it targets an underage female audience.
Straight girls want to see hot guys, not other girls, so the female protagonist is unnecessary, thus, we remove the girl, and now we have only guys, and if they kiss anyone, they'll have to kiss another guy because there simply are no girls left. That's how you get BL.
Patalliro! パタリロ!, a BL manga, was serialized in the shoujo magazine Hana to Yume 花とゆめ, which also serialized the famous shoujo drama "Glass Mask, " Garasu no Kamen ガラスの仮面.
A BL is basically a shoujo romance, which are known for drawing every character beautifully, the girls are all drawn like princesses, the guys are all drawn like princes, except that instead of the prince falling in love with the princess, he falls in love with another prince.
Since BL is mostly made by and for heterosexual women, sometimes the way it depicts gay relationships is considered homophobic, specially the heteronormative way in which the seme and uke 攻め受け (top and bottom) of a gay couple in a BL series.
The more feminine character is typically the bottom, the "girl" in the gay couple, i.e. the shorter, weaker, more timid one.
If a character is drawn like a girl, i.e. he's a "trap" (otokonoko 男の娘), he's assumed to be the uke.
If a character wears "female clothes," josou 女装, he's assumed to be the uke.

A subversion of this is specifically called josou seme 女装責め, "crossdressing top." See types of seme and uke for details.
BL is generally associated with the fujoshi 腐女子, "rotten girls," the fan-girls who ship male characters with other male characters.
Character: Koganuma Minori 古賀沼美埜里
Anime: Outbreak Company (Episode 4)
Context: a fujoshi holds a BL manga.
The text behind her reads sou-uke 総受け, "total (as in sum) bottom," referring to a character who is the uke no matter whom he's shipped with.
In anime, a fujoshi often has wild delusions, "fantasies," mousou 妄想, about two characters being gay.
Left: Konoe Subaru 近衛スバル
Right: Sakamachi Kinjirou 坂町近次郎
Anime: Mayo Chiki! まよチキ! (Episode 2)
Context: a fujoshi mousou'ing about the guy in front of her being gay.
Often, BL refers to doujin 同人, indie works and fan-made parodies that feature gay pairings, specially ships made out by fans such as the fujoshi.
The fujoshi will watch a series and ship the two best friends together, because they have such a good relationship with each other, or two rivals together, because of all that rivalry and sexual tension, or just basically anybody with anybody else, for whatever reason.
If you don't know what shipping is, please watch this documentary:
A ship in Japanese is called a "coupling," kappuringu カップリング, abbreviated CP. The CP is normally written as seme kakeru uke 攻め×受け, i.e. the seme comes first, the uke comes last. Often, a CP will have its own abbreviation.
For example, NaruSasu ナルサス and SasuNaru サスナル would refer to Naruto kakeru Sasuke ナルト×サスケ with Naruto as seme, and the reverse with Sasuke as seme.
This same ship name culture exists in the west.(fanlore.org: Pairing Name)
In the west, a fanfic featuring a ship like this would be called a slash fanfic, as in Naruto "slash" Sasuke, Naruto/Sasuke. The mathematics got inverted in the translation. In Japanese it's multiplication, in English it's division.
Some guys like BL, too. A male fujoshi is called a fudanshi 腐男子.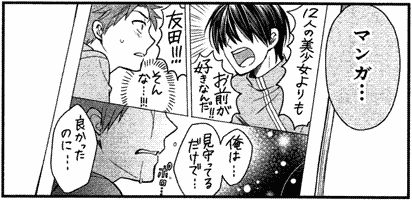 Manga: Gekkan Shoujo Nozaki-kun 月刊少女野崎くん (Chapter 8, Page 115, 深夜のテンション)
Context: Nozaki played a dating sim, in which the player's best friend, Tomoda 友田, kept helping the player in his romantic conquests in various ways, with hints, and free movie tickets. Moved by this, Nozaki decides to spend the night drawing a fan comic featuring Tomoda with a romantic partner, arriving to the conclusion he's more interesting in the player than in any of the girls. In the next day, a girl finds the comic drawn.
manga...
マンガ・・・
A comic...
juuni-nin no bishoujo yori mo omae ga suki nanda!!
12人の美少女よりもお前が好きなんだ!!
[I] like you more than the twelve bishoujo!!

Each "beautiful girl" you can conquest in a dating sim is a bishoujo.

Tomoda!!!
友田!!!

sonna...!!!
そんな・・・!!!

ore wa... mi-mamotteru dake de... yokatta noni...
俺は・・・見守っるだけで・・・良かったのに・・・
I'd be [happy] with just watching over [you]...
poro...
ポロ・・・
*tear falling*
vs. Gay
The word BL doesn't mean "gay." It means a genre of gay fiction. To say "gay" in Japanese, you would say:
gei
ゲイ
Gay.

homo
ホモ
Homo. (may be considered offensive.)
douseiaisha
同性愛者
Same-sex-love-person.
Homosexual person.
Sometimes, however, BL is used to call someone gay. Since this is an anime slang, this probably only happens in anime.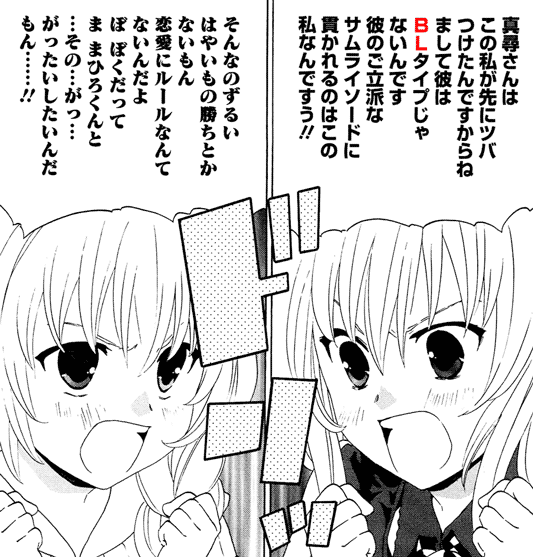 Manga: Haiyore! Nyaruko-san 這いよれ!ニャル子さん (Chapter 9, 進んで囚われの身)
Context: Nyaruko ニャル子 and Hasuta ハスタ fight over the protagonist's love.
Mahiro-san wa
kono watashi ga saki ni tsuba
tsuketa-n-desu-kara ne
真尋さんは
この私が先にツバ
つけたんですからね
I called dibs on Mahiro-san first, you see.

tsuba wo tsukeru
ツバを付ける
To put spit on [something.] (literally.)
To call dibs on. (because other people won't eat something you already put your spit on.)

mashite kare wa
Bi-Eru-taipu janai-n-desu
まして彼は
BLタイプじゃないんです
Plus he's not a BL-type. (i.e. he's not gay.)
kare no go-rippa-na
samurai-soodo ni
tsuranukareru nowa
kono watashi nan-desuu
彼のご立派な
サムライソードに
貫かれるのはこの
私なんですぅ!!
The one to be pierced by his incredible samurai sword will be me.

I'm not even joking, this is literally what's written there.

sonna no zurui
そんなのずるい
That's unfair.
hayai mono kachi toka
nai mon
はやいもの勝ちとか
ないもん
It's not something like the fastest one wins.
ren'ai ni ruuru nante
nai-n-da yo
恋愛にルールなんて
ないんだよ
There's no such thing as rules when it comes to romance.
vs. Bara
The difference between BL and bara is that BL targets a female, heterosexual audience, while bara targets a male, gay audience.
In practice, this means that characters in BL look like the romantic interest of a shoujo manga, like a prince charming, a male super model, a boy band guitarist, etc. They're generally slender, have no body hair, and are stylish. By contrast, characters of a bara manga look fatter, more muscular, and hairier.
The term bara as a genre is more used in the west. In Japanese, bara comics are called "gay comics," gei komikku ゲイコミック, which makes it pretty clear that gay comics for gays and BL for women are different genres.
It's worth noting that bara is called bara 薔薇, "rose," most likely because of a gay magazine called Bara-zoku 薔薇族, "rose tribe," in which some gay comics were published, like that one from the yaranaika やらないか meme.
You may see roses in the background when a fujoshi character fantasizes about a male character being gay because of this.
Right: Marie, マリー
Left: Lloyd Belladonna, ロイド・ベラドンナ
Anime: Tatoeba Last Dungeon Mae no Mura no Shounen ga Joban no Machi de Kurasu You na Monogatari, たとえばラストダンジョン前の村の少年が序盤の街で暮らすような物語 (Episode 9)
Context: Marie imagines Lloyd on bed with a man.
vs. Yaoi
There are a few differences between BL and yaoi.
In the west, yaoi refers to sexually explicit gay manga and anime, and the term BL is rarely used. Sometimes, yaoi just means gay scenarios in general.
In Japanese, BL refers to gay fiction targeted at a female audience in general, including both for general and for adult audiences, so what's called yaoi in the west would be called BL in Japanese.
In Japanese, yaoi in its broadest sense means stories without plot, but normally it specifically refers to BL featuring ship from a series the author likes. In other words, if gay fiction is called slash fiction, yaoi is a PWP slash.
vs. Shounen-ai
There are a few differences between BL and shounen-ai.
In the west, explicit gay fiction is called yaoi, and non-explicit is called shounen-ai. In Japanese, both are called BL, so what's called shounen-ai in the west would usually be called BL in Japanese, except not always, for reasons we'll see further below.
Furthermore, shounen-ai 少年愛 in Japanese means literally "boy love," typically in the sense of pedophilia. It seems that the term was used for gay fiction featuring underage characters in the past, which is probably how it got loaned into English.
For the record, explicit works featuring underage male characters is called shotacon in English. In Japanese, shotakon ショタコン refers mainly to women that like boy characters, who are called shota ショタ characters.
Anime: Centaur no Nayami, セントールの悩み (Episode 2, Cropped)
Context: a fujoshi holds an adult book.
shota bi-eru-bon
ショタBL本
Shota BL book.
juu-hachi-kin
18禁
Eighteen forbidden. (literally.)


Not for children, i.e. people under eighteen years old.
vs. 腐向け
Sometimes, a work labelled as shounen-ai in the west isn't labelled BL in Japanese. In this case, the work may be instead called fumuke 腐向け, meaning it's "targeted at fu[joshi]."
The difference between these two things doesn't really make a lot of sense, to be honest.
Some series that are actually categorized as BL include:
No.6.
Junjou Romantica 純情ロマンチカ
Love Stage!!
These series feature two male protagonists, and focus on romance between them.
Series that only feature a gay character in love with a male protagonist don't count as BL, e.g.:
Enshuu Ritsu 円修律, from R-15.
Hasuta ハス太, from Haiyore! Nyaruko-san 這いよれ!ニャル子さん.
Some fumuke series don't feature romance, simply a lot of hot guys, e.g. Free! In English, the term "fujobait" is sometimes used to describe these.
Character: Sakata Gintoki 坂田銀時
Anime: Gintama 銀魂 (Episodes 92, 145, 193)
Context: Aniplex (allegedly) baiting fujoshi with suggestive DVD covers.
Series that focus on male characters developing non-romantic bonds are sometimes called bromance ブロマンス instead.
Some series that appear EXTREMELY gay are somehow not BL.
Jingai-san no Yome 人外さんの嫁, a series about boys becoming brides for monsters.
Sarazanmai さらざんまい, a series about gay frogs.
This could be because the main focus of the series isn't a typical gay relationship, but then again, even YoI isn't classified as BL despite the entire theme of the anime being an obviously gay relationship.
Left: Katsuki Yuuri 勝生勇利
Right: Victor Nikiforov ヴィクトル・ニキフォロフ
Anime: Yuri!!! on Ice, ユーリ!!! on ICE (Episode 3, Stitch)
Context: somehow, this isn't BL.
Lastly, there's the question of whether BL is actually restricted to "love." A doujinshi featuring two male characters from a series as a gay pairing is BL, but what if instead of romance it's one character raping another? Not sure if anyone would call this "love," but would this count as BL? Probably, I guess.
What if the author isn't interested in drawing a pairing, but only the uke character? Is it still BL if it's only about him being penetrated and you have a random nameless, faceless molester for seme, or perhaps some tentacle monster, or something like that?
I mean, it's all obviously fumuke, but does it count as BL? It can't be BL just because there's a guy being penetrated. If that were the case, then futanari ふたなり could count as BL, too, and it definitely does not.
Derived Acronyms
There's a bunch of acronyms based on BL that all end in L. For reference, some examples: