In anime, a shota ショタ is a little boy, or, more generally, any male character that's underage. The female variant of shota is loli ロリ. Sometimes, Shota is someone's name instead, specially Shōta with a macron, which is another way to romanize Shouta.
Warning: this term is often associated with pedophilia.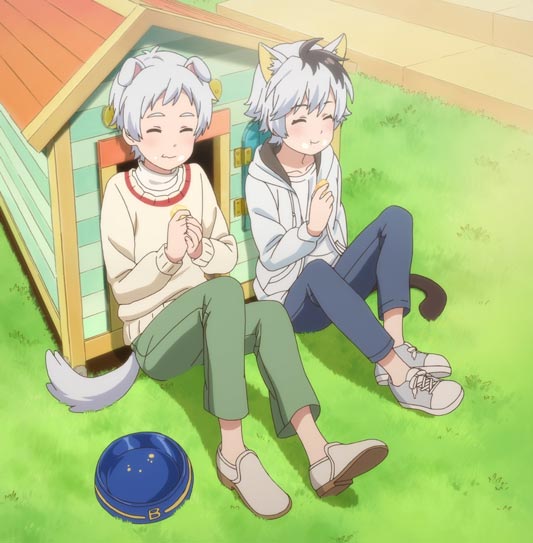 Left: Yamada Pochi 山田ポチ
Right: Okamoto Tama 岡本タマ
Anime: Uchi Tama?! Uchi no Tama Shirimasen ka? うちタマ?!~うちのタマ知りませんか?~ (Episode 1)
The term shota is also romanized syota.
Definition
In the narrow sense, a shota is a character that's a little boy. In the broad sense it's any underage male character.
Types
For reference, some terms for types of shotas.
Most of them are subversion of the typical shota, making them examples of gap moe ギャップ萌え. And many of them are just the terms for types of lolis replacing loli with shota, so it's not really certain that such character exists at all.
Legal Shota
A legal shota, or gouhou shota 合法ショタ, is a shota character that's canonically over 20 (or 18) years old. This is an anime slang made by anime fans, not by lawyers, so it has nothing to do with the actual legality of anything.
The legal shota trope happens for various reasons. It could be that he just looks like that, or that he's immortal and doesn't age. There's also been several isekai 異世界 series in which an adult salaryman or NEET is reborn in another world as a baby or as a young boy, I guess that counts, too.
Character: Tet テト
Anime: No Game No Life, ノーゲーム・ノーライフ (Episode 1)
Context: Tet, the "god of play," yuugi no kami 遊戯の神, is, literally, a deity, so he doesn't age.
Illegal Shota
An illegal shota, or ihou shota 違法ショタ, is a shota character that's canonically underage, which is your typical shota character.
Shotajiji
A shota-jijii ショタジジイ is a shota character who is an "old man," a jijii ジジイ. It's the female counterpart of rori babaa ロリババア, which in English is typically romanized lolibaba, so I guess shotajiji would be the appropriate counterpart.
Such character looks like a shota, but speaks or thinks like an old man, so he's probably a legal shota who is a hundred years old or something.
Leftmost: Hououji Fuu 鳳凰寺風
Center-left: Shidou Hikaru 獅堂光
Center-right: Clef, クレフ
Rightmost: Ryuuzaki Umi 龍咲海
Anime: Magic Knight Rayearth, 魔法騎士レイアース (Episode 1)
Context: Clef, who looks like a little boy, gets mistaken by Umi for a young child, but, canonically, he is 745 years old.
Exceptionally:
Left: Masaru マサル
Middle: Kiyoko キヨコ
Right: Takashi タカシ
Anime: AKIRA アキラ (Movie)
Context: the ESPers from Akira underwent laboratory experiments that stopped their physical growth. In spite of having the stature of a child, and being mistaken for a child sometimes, they're all of advanced age, having white hair and shriveled skin. They're voiced with children voices, however.
Illegal Jiji
An ihou jijii 違法ジジイ, literally "illegal old man," i.e. an illegal jiji, is a character who is an old man, but looks like a shota, or, more extremely, a character who doesn't look like a shota in spite of having the canonical age of one.
Given that Pixiv doesn't even have a dictionary page for this term, I'm not sure there's any character that fits this definition at all.
Trap Shota
A boy that looks like a girl is called an otokonoko 男の娘 in Japanese, or a "trap" in English. Some of these characters also count as a shota, although not all of them do.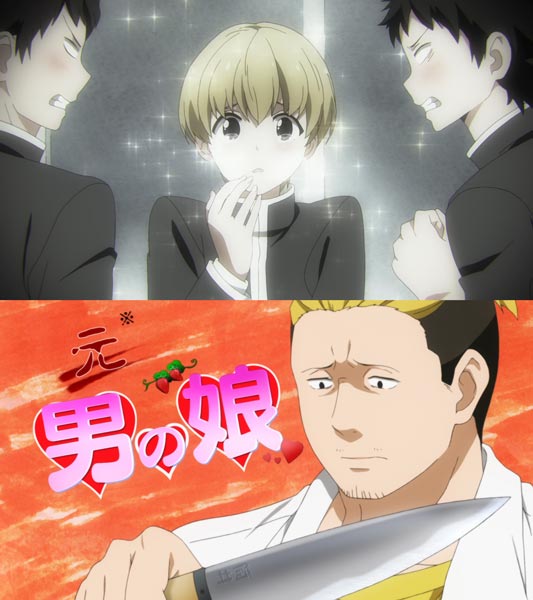 Character: Tsutsui Akane 筒井あかね
Anime: Handa-kun はんだくん (Episode 3)
Context: Tsuitsui felt bullied for his unmanly appearance in middle school, prompting him to become a battle-hardened delinquent.
moto otokonoko
元男の娘
Former trap.
女装ショタ
A josou shota 女装ショタ is a crossdressing shota. The word josou 女装 means "[wearing] female clothes." The opposite term is dansou 男装, "[wearing] male clothes."
Left: Makoto マコト
Right: Minami Touma 南冬馬
Anime: Minami-ke みなみけ (Episode 10)
Context: a josou shota drags a dansou loli to behind the curtains.
Shotafication
The term shota-ka ショタ化 means "shotafication," the process through which someone, or something, becomes a shota character somehow. This includes:
A character turns into a little boy for some magical or sci-fi reason.

e.g. the protagonist of Case Closed, Meitantei Conan, 名探偵コナン.

Fan art of a character features a shota version of them, in a sense similar to peachification, Piichi-hime-ka ピーチ姫化.
The gijinka 擬人化, "anthropomorphization," of something is done by drawing it as a shota character.

e.g. the male platelets in Hataraku Saibou はたらく細胞.
If a character is gender bent to male in the process of turning into a shota, that's also called nantaika 男体化, "male-body-fication."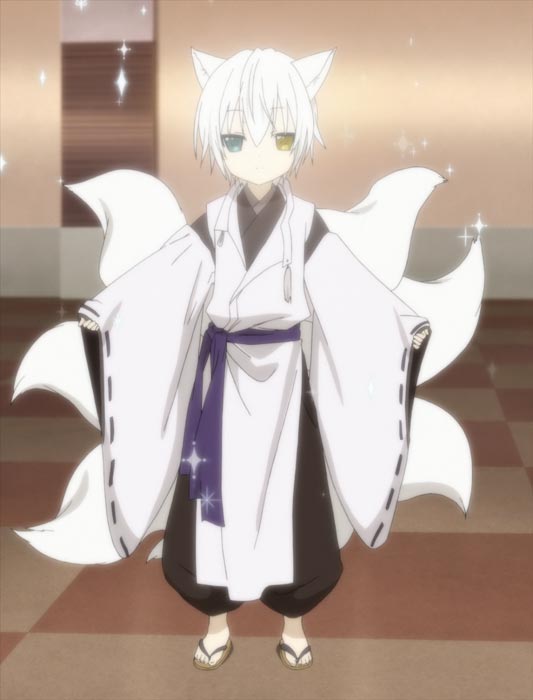 Character: Miketsukami Soushi 御狐神双熾
Anime: Inu x Boku SS, 妖狐×僕SS (OVA, Stitch)
Context: a multi-tailed fox boy with heterochromia, the shotafied version of one of the main characters.
ケモショタ
A kemoshota ケモショタ is a shota character who is also a kemono ケモノ character, that is, a furry character, in the sense of an anthropomorphized animal, e.g. Klonoa コロノア.
ロボショタ
A roboshota ロボショタ is a shota character who is also a "robot," robotto ロボット. Examples include:
Megaman, also known as Rockman, ロックマン.
Atom, アトム, from Astro Boy, アストロボーイ.
Reg, レグ, from Made in Abyss, メイドインアビス.
筋ショタ
A kinshota 筋ショタ is a shota character that has "muscles," kin'niku 筋肉.
Characters that fall into this trope tend to be high school characters from sports anime that happen to look younger than their peers, so they're not the same age as the average shota.
Younger characters with muscles tend to be child soldiers, e.g. Jonathan Mar ジョナサン・マル, from Jormungand ヨルムンガンド.
Does the body improvement club from Mob Psycho 100 モブサイコ100, who are supposed to be in middle school, counts as this trope? Does Kujou Joutarou 空条承太郎, who is canonically 17 years old, counts as this trope?
I'd guess not, considering they're indiscernible from your average adult character.
デブショタ
A debu shota デブショタ is a shota character who is a "fatty," debu デブ.
Top-right: Masamune's father.
Left: Masamune's mother, Hayase Kinue 早瀬絹江
Bottom-right: Makabe Masamune 真壁政宗
Anime: Masamune-kun no Revenge, 政宗くんのリベンジ (Episode 9, Cropped)
Context: Masamune was a debu before turning into an ikemen イケメン.
Pairings
Terms likes oneshota are sometimes used to refer to scenarios in which a shota character is paired with another character archetype, in this case, with an oneesan character. See the article about oneshota おねショタ for terms that follow this pattern.